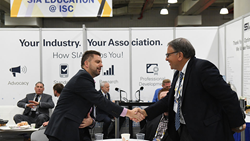 "This year's sessions highlighted cutting-edge topics like the move to smart cities, convergence in the security industry, the use of artificial intelligence in video analytics and how some legacy connections leave modern access control data vulnerable to hacking." – Don Erickson, CEO, SIA
NEW YORK (PRWEB) December 03, 2018
ISC East, in collaboration with Premier Sponsor the Security Industry Association (SIA), reported strong growth results at the conclusion of this year's industry event in New York City. The International Security Conference & Exposition is the Northeast's largest security trade show, where close to 7,500 security and public safety professionals convened this month to meet experts from over 300 leading security brands, all while co-locating with the launch of Unmanned Security Expo New York and Infosecurity North America, Europe's leading information security event.
Welcoming 85 new companies and brands and close to 1,000 more industry professionals compared to 2017, the ISC East exhibit hall bustled and featured expanded in-depth content – including new technologies and product categories, more special events/networking opportunities and a variety of all-new complimentary education through SIA Education@ISC and Unmanned Security Expo New York.
Mary Beth Shaughnessy, event director for ISC Security Events, noted, "It was exciting to see such a robust expo floor and high attendance growth with our New York event this year, all while matching up to our brand theme of Comprehensive Security for a Safer, Connected World. The top attended education sessions were formed around a diverse spectrum of topics including cyber-physical integration, converged security for smart cities buildings, the impact of IT and AI on video surveillance/intelligence, critical incidents prevention and mitigation, plus drones, drone-detection, drone-regulations and policies and more. The present and future is bright for ISC East, and we are committed to providing great solutions and education for this community."
Over the past four years, the ISC East show floor has grown by over 60 percent in square footage and has come to be known as "the highlight of the year," stated by Linda Esposito, security specialist at the U.S. Postal Inspection Service. "The extensive variety of vendors and professionalism of the ISC staff make it one of the best shows out there."
In addition, Alex Pachikov of Sunflower Labs, a first-time exhibitor at Unmanned Security Expo, commented, "[This] was the perfect venue for us to introduce the Sunflower Labs drone-based security system. We had the perfect audience and fantastic exposure to potential customers, installation partners and system integrators."
Additionally, while Unmanned Security Expo presented 15+ sessions dedicated to the in-depth issues, policies and opportunities for unmanned aerial systems (UAS) and unmanned ground vehicles (UGVs), the SIA Education@ISC East program offered 25+ complimentary education courses and highlighted two distinct keynote speakers for the first time at ISC East – Philip Halpin, senior vice president & head of global security for Brown Brothers Harriman, and James A. Gagliano, retired FBI supervisory special agent, CNN law enforcement analyst and adjunct assistant professor at St. John's University.
"SIA Education@ISC East 2018 was a great success, with hundreds of conference attendees participating in our education sessions, engaging keynotes and hands-on workshops," said Don Erickson, CEO of SIA. "This year's sessions highlighted cutting-edge topics like the move to smart cities, convergence in the security industry, the use of artificial intelligence in video analytics and how some legacy connections leave modern access control data vulnerable to hacking."
With so much learning and knowledge-sharing happening on the show floor, security professionals still found time to participate and engage at the numerous special events ISC East had to offer, including the first-ever SIA Women in Security Forum breakfast, the new Mission 500 hygiene kit building, the ever-popular ASTORS Homeland Security Awards, ISC East's Featured Product Showcase featuring some of the most innovative product technologies, a high-profile celebrity appearance of former New York Yankees player Tino Martinez (sponsored by Rapid Response, a SIA member), the signature ISC East Grand Opening Ceremony (sponsored by Speco Technologies, a SIA member), the Crack the Tap cocktail reception (sponsored by Autel Robotics) and so much more.
As ISC East comes to a close, the ISC Security Events portfolio continues to provide comprehensive security for a safer, connected World through ISC West, Unmanned Security Expo and Connected Security Expo taking place April 9-12, 2019 (SIA Education@ISC: April 9-11 | Exhibit Hall: April 10-12) in Las Vegas, Nevada. To pre-register to attend, visit iscwest.com/​register. ISC's International events take place in Mexico City, Mexico (Expo Seguridad) in May and Sao Paulo, Brazil (ISC Brasil) in June. And, coming to Dallas, Texas, in July 2019, Cyber:Secured Forum, in partnership with SIA and PSA Security Network.
Save the date for ISC East 2019, taking place Nov. 20-21, 2019, at continued home base New York City's Jacob K. Javits Center. Visit isceast.com/​register to sign up and be the first to know when registration is open.
For more information about ISC Security Events, visit iscevents.com.
About ISC East
ISC East is the northeast United States' security industry's premier convention for new products, solutions and technologies. Each year, ISC East hosts international and domestic security product manufacturer companies and security professionals at New York's Javits Center. SIA is the sole sponsor of the ISC East event. The event is also proudly supported by the New York State Electronic Security Association, the New Jersey Electronic Security Association, the Connecticut Alarm & Systems Integrators Association and the Pennsylvania Burglar & Fire Alarm Association.
About Unmanned Security Expo
Unmanned Security Expo (USE) New York is an all-new, trade-only event focused on UAS and UGV technology and hardware. Restricted to qualified professionals sourcing or providing autonomous solutions for commercial and government security and safety use and drone detection/counter-system applications. Powered by ISC Security Events, USE New York will bring together security industry professionals who are interested in evaluating unmanned technology products and solutions and learning more about ongoing Federal Aviation Administration adaptations to UAV regulations and policies.
About Reed Exhibitions
Reed Exhibitions is the world's leading events organizer, with over 500 events in over 30 countries. In 2016, Reed brought together over seven million active event participants from around the world generating billions of dollars in business. Today, Reed events are held throughout the Americas, Europe, the Middle East, Asia Pacific and Africa and organized by 41 fully staffed offices. Reed Exhibitions serves 43 industry sectors with trade and consumer events and is part of RELX Group, a world leading provider of professional information solutions. For more information, visit reedexpo.com.
About SIA
SIA (securityindustry.org) is the leading trade association for global security solution providers, with over 900 innovative member companies representing thousands of security leaders and experts who shape the future of the security industry. SIA protects and advances its members' interests by advocating pro-industry policies and legislation at the federal and state levels, creating open industry standards that enable integration, advancing industry professionalism through education and training, opening global market opportunities and collaborating with other like-minded organizations. As a proud sponsor of ISC Events expos and conferences, SIA ensures its members have access to top-level buyers and influencers, as well as unparalleled learning and network opportunities. SIA also enhances the position of its members in the security marketplace through SIA Government Summit, which brings together private industry with government decision makers, and Securing New Ground, the security industry's top executive conference for peer-to-peer networking.