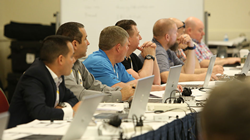 "Our goal is foster peer-to-peer learning on the most current technological and physical security solutions and business practices, providing attendees with essential information to help them improve organizational performance and gain a competitive advantage in the marketplace." –Elli Voorhees, SIA
LAS VEGAS (PRWEB) March 12, 2019
ISC West, the largest converged security event in the U.S., today introduces the lineup for its 2019 education sessions, in collaboration with premier sponsor the Security Industry Association (SIA).
In partnership with SIA, ISC West will be making educational sessions available during its 2019 ISC West show taking place April 9-12, 2019 at the Sands Expo in Las Vegas, Nevada, with SIA Education@ISC kicking off the day prior to the exhibition on April 9. The comprehensive program includes 85+ accredited sessions covering a range of industry topics aimed at providing the critical knowledge attendees need to protect and defend against developing threats in today's security landscape.
SIA Education @ISC Session Examples:
Keynote 1: Delivering Results: How DHS and Industry Partnerships Drive Security Innovation: In this session, keynote speaker William N. Bryan, acting under secretary for science and technology at the U.S. Department of Homeland Security (DHS), will discuss the advances in mobility, machine learning and autonomous technologies that provide new capabilities to build resilience capacity and reduce risks.
Keynote 2: Stadium Security – As It Was, Where It Is and Where It Is Going…: Keynote speaker Russ Butler, vice president of security for the San Francisco 49ers and Levi's Stadium, explores the history and evolution of the ever-changing stadium security landscape.
The Great Biometric Debate: After years of promise, biometrics are finally on the rise toward pervasive use. The audience will benefit from a detailed and spirited debate, tempered with a moderator that is an expert in cryptography, identity and applied authentication models across information and physical domains.
Integrating Millennials Into Security Organizations: Today, one in three workers is a millennial, but millennials represent only a fraction of membership in security professional associations. This highly interactive session will feature a simulation in generational dynamics with a panel discussion from three generations of security practitioners: Baby Boomer, Gen Xer and Millennial.
Meet the Jetsons: Understanding the Promise and Challenges of Smart Cities: Smart cities are now a reality, not just in the U.S., but across the globe. This session will address issues of technology governance to ensure that smart systems are protected and able to serve their human masters without impinging on privacy and civil liberties.
How to Adapt to Address Drone Security: With the rapid deployment of small drones across the globe, security organizations are scrambling to become familiar with the threat they represent as well as with ways to use this new technology as a force-multiplying asset. Learn from drone industry professionals and a physical security design engineer about the realistic applications of drone systems and counter-drone solutions that can protect organizations and facilities.
Smart Cities, Smart Buildings and the Evolution of the Converged Security Approach: This transformative session will discuss the future of security from the managing of traffic lights/traffic flow, power grids, ports and transportation systems. Included in this conversation will be the understanding of the use of cameras, access control, gunshot detection, open source intelligence social analyzers (OSINT), Internet of Things devices, cyber information, video management, predictive maintenance for critical infrastructure and entry solutions.
In addition to programming with SIA, ISC West offers complimentary hands-on Vendor Solution Sessions and Unmanned Security educational sessions, including:
Unmanned Theater: Drones 2.0 – The Next Generation of Flying Robots
Unmanned Theater: Multi-Layer Security: Requirements of a Drone World
Unmanned Theater: Cyber-Physical Security: How to Evaluate a Counter-Drone System
Axis Communications: From Campuses to Communities: How Smart Technologies Are Driving Our Future
Intel: Intel OpenVINO Toolkit Workshop
Verkada: Modernizing Enterprise Video Security
See the full list of education sessions.
"It's our ongoing mission to arm attendees with the knowledge, strategies and tactics they need to make the most informed decisions possible when dealing with today's cyber-physical and public safety security threats," said Will Wise, group vice president, security portfolio at Reed Exhibitions. "This year, we have many new speakers and are covering a gamut of topics – from drones to stadiums security to the developments with smart city technology – facilitating thought leadership between security industry peers looking to advance their knowledge on the most pressing issues."
In addition to the standard education sessions, ISC West and SIA will be holding the SIA Women in Security Forum Breakfast @ ISC West on Friday, April 12. Attendees will enjoy featured remarks from Juliette Kayyem – Belfer lecturer in international security and faculty director of the Homeland Security Project at the Harvard Kennedy School, national security analyst for CNN and CEO of Zemcar, – in addition to networking and complimentary breakfast. Kayyem previously served as President Obama's assistant secretary for intergovernmental affairs at the U.S. Department of Homeland Security and as Massachusetts Governor Deval Patrick's homeland security advisor.
"Sharing new knowledge on emerging trends, technologies and best practices in security is the cornerstone of the SIA and ISC West partnership," said Elli Voorhees, Ph.D., director of education for SIA. "Our robust education program offerings cover a wide range of topics that appeal to all ISC West attendees – from product manufacturers and integrators to professionals supporting sales, marketing, IT and business operations efforts. Our goal is foster peer-to-peer learning on the most current technological and physical security solutions and business practices, providing attendees with essential information to help them improve organizational performance and gain a competitive advantage in the marketplace."
Registration & Full Lineup
Registration for ISC West is officially open. Exhibit Hall registration includes access to all the featured areas: Connected Security Expo, Unmanned Security Expo, Emerging Technology Zone, Connected Home and Public Security & Safety. You can view the full education session lineup here.
About ISC West
ISC West (in partnership with premier sponsor Security Industry Association (SIA)) is the largest, converged security event of the year, constantly evolving to educate security professionals on the tools and skills needed to protect against today's emerging cyber-physical security threats and the anticipated ones of tomorrow.
The 50+-year-old ISC brand is trusted to provide the assets and knowledge needed to fight emerging threats. Over 1,000 international and domestic manufacturers across physical, IT and IoT security debut their new products at the tradeshow to over 30,000 security industry professionals. Through its partnership with the Security Industry Association (SIA), ISC West offers accredited educational sessions on all types of industry topics through SIA Education@ISC.
ISC West 2019 will take place April 9-12 at the Sands Expo in Las Vegas, NV. SIA Education@ISC will kick off the day prior to the exhibits, on April 9.
For more information, visit http:/​/​http://www.iscwest.com/​Home.
Twitter: @ISCEvents, Facebook: @ISCEvents, LinkedIn: ISC Security Events, Instagram: @isc_events
About Reed Exhibitions
Reed Exhibitions is the world's leading events organizer, with over 500 events in over 30 countries. In 2016 Reed brought together over seven million active event participants from around the world generating billions of dollars in business. Today Reed events are held throughout the Americas, Europe, the Middle East, Asia Pacific and Africa and organized by 41 fully staffed offices. Reed Exhibitions serves 43 industry sectors with trade and consumer events and is part of RELX Group, a world leading provider of professional information solutions.
For more information, visit http://www.reedexpo.com.
About SIA
SIA (securityindustry.org) is the leading trade association for global security solution providers, with nearly 1,000 innovative member companies representing thousands of security leaders and experts who shape the future of the security industry. SIA protects and advances its members' interests by advocating pro-industry policies and legislation at the federal and state levels, creating open industry standards that enable integration, advancing industry professionalism through education and training, opening global market opportunities and collaborating with other like-minded organizations. As the premier sponsor of ISC Events expos and conferences, SIA ensures its members have access to top-level buyers and influencers, as well as unparalleled learning and network opportunities. SIA also enhances the position of its members in the security marketplace through SIA GovSummit, which brings together private industry with government decision makers, and Securing New Ground, the security industry's top executive conference for peer-to-peer networking.