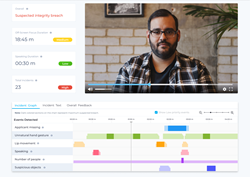 iSchoolConnect's AI-proctoring tool is a turning point for institutions that conduct educational assessments. Organizations can now switch from traditional methods of conducting assessments to online AI-powered Assessments. This will allow students to take exams from the comfort of their homes.
BOSTON (PRWEB) September 23, 2020
iSchoolConnect Inc., a US and India based technology company recently launched an AI-proctoring tool that helps organizations and institutions conduct millions of online tests proctored using a combination of AI and human power. During a time when COVID-19 has forced every institution and organization to go online, this online assessment solution has proved immensely beneficial. As of August 2020, the tool has proctored over 500,000 tests.
"Digitalization of a labor-intensive task such as invigilating tests, was inevitable", says Ashish Fernando, Founder and C.E.O of iSchoolConnect. "COVID-19 only emphasized the need for it. Traditionally, a human invigilator would be responsible for conducting and overseeing every test held by an organization. To that end, iSC's unique implementation of AI in proctoring is a game-changer. Organizations will now be able to conduct a higher number of assessments, be it low-stake internal tests or high-stake graded tests. This makes the whole process faster, more efficient, and globally accessible."
In response to the challenges arising from the COVID-19 pandemic, some popular global education enterprises such as ETS, GMAC, and the British Council have realized the need for alternate testing options. These organizations have since implemented new online testing methods that would allow candidates to be administered tests within the safety and privacy of their homes. Since March 2020, students worldwide have been taking their GRE, TOEFL, and GMAT tests online. By April 2020, the IELTS exam governed by the British Council and IDP International also adopted the 'at-home' testing module.
The 'Assessment Center' as the iSchoolConnect proctoring service is aptly named, is capable of conducting tests and assessments online with very minimal human intervention. The test taker's computer webcam or even their mobile phone camera feed can be used to monitor the student and detect usage of objectionable test practices.
iSchoolConnect's solution is highly functional yet simple to implement. Once a student has finished attempting their test, the captured video stream from the webcam or the mobile phone is directly uploaded to iSC's Proctoring Service for analysis. These videos are run through iSC's computer vision models which analyze it for any cheating, malpractice, or use of unfair means during the proctored tests.
The AI then automatically generates a report with a detailed analysis of the test-takers' actions and highlights all the breaches that have occurred. Actions such as people speaking, or the test-taker reading from a book, suspicious hand gestures, and other determining factors are captured and listed on the basis of their severity. The report generated for each test taker is sent back to the institution for qualification.
iSchoolConnect's clients have observed that the Assessment Center generates a cost-saving of roughly one-fourth the conventional price for proctoring tests. Immediately following its launch, 500,000 tests have already been proctored by iSC's Assessment Center solution across the globe. This serves as a testimony to the scale that the solution provides to its clients.
iSchoolConnect's vision is to make the test-taking process convenient for the test-taker and to assure the organization conducting these tests, that the tests were taken fair and square.
About iSchoolConnect Inc.: iSchoolConnect is an AI-product company that assists students across the globe to fulfill their study abroad aspirations. They also help educational institutions and enterprises scale their domestic and international processes as well as recruitment/sales through the smart use of cutting-edge technology, and in-country expertise. Reach out to them on LinkedIn or email them at support@ischoolconnect.com.