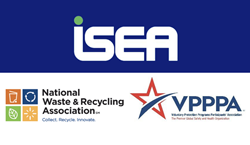 "ISEA appreciates the hard work of our partners and member companies in educating and serving employers and workers for whom hand protection is vital." -Lydia Baugh, ISEA Director of External Affairs
ARLINGTON, Va. (PRWEB) November 12, 2019
The International Safety Equipment Association (ISEA) is collaborating with the National Waste & Recycling Association (NWRA) and the Voluntary Protection Programs Participants' Association (VPPPA) on a #SafeHands awareness and education campaign to help workers and employers grasp the importance of hand protection. The main message: Wear gloves that match the hazards of a job, whether those might be punctures, cuts, impacts or others.
"Whether working on a pick-up route or in a material recovery facility (MRF), workers should have — and wear — hand protection that prevents injury from hazards such as, needle sticks and other hand-related risks common to handling the nation's waste and recycling," said NWRA CEO Darrell Smith. "We're partnering with ISEA to make sure glove manufacturers and suppliers really understand our industry, and to emphasize to our member employers and their workers that it's vital to take hand safety seriously."
"Personal protective equipment is a very important part of an effective safety management system," said VPPPA Chairman of the Board J.A. Rodriguez Jr. "We are very excited to be collaborating with ISEA on helping to spread the word and in keeping VPPPA members informed. Our member network is in a unique position to join ISEA in positively influencing enhanced hand protection for every worker, everywhere."
ISEA-member glove manufacturers and suppliers offer a wide range of choices designed to meet industry standards and equip workers with solutions based on best practices. Yet, according to the Occupational Safety and Health Administration (OSHA), 70% of workers don't wear hand protection. And of those who do, 30% don't wear the right kind of glove for the task.
"ISEA appreciates the hard work of our partners and member companies in educating and serving employers and workers for whom hand protection is vital," said Lydia Baugh, ISEA's director of external affairs. "Better hand safety requires a true team effort."
The #SafeHands campaign's special webpage — SafeHandsAtWork.org — includes a downloadable hand safety infographic, plus links to the latest ANSI/ISEA industry standards to guide employers in properly equipping workers with appropriate hand protection.
About ISEA
Headquartered in Arlington, Virginia, the International Safety Equipment Association (ISEA) is the trade association in the U.S. for personal protective equipment and technologies. Its member companies are world leaders in the design, manufacture, testing and distribution of protective clothing and equipment used in factories, construction sites, hospitals and clinics, farms, schools, laboratories, emergency response and in the home. Since 1933, ISEA has set the standard for the personal protective equipment industry, supporting member companies united in the goal of protecting the health and safety of people worldwide.