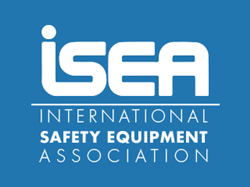 "It's inspiring and refreshing to see bipartisan legislative leadership on issues of such importance to the safety of American workers." ISEA President Charles Johnson
ARLINGTON, Va. (PRWEB) February 27, 2020
The International Safety Equipment Association (ISEA) has recognized six courageous members of the U.S. House of Representatives for their efforts over the past year to enhance the safety and health of U.S. workers.
ISEA Legislative Leadership Award recipients include:

Rep. Paul Tonko (D-NY) and Rep. Don Bacon (R-NE) for sponsoring HR 4982, the Healthcare Workforce Protection Act, which would add respiratory protective devices certified by the National Institute for Occupational Safety and Health to the Public Readiness and Emergency Preparedness (PREP) Act — an extremely important step as the latest coronavirus heightens demand for NIOSH-certified respirators.
Rep. Mike Doyle (D-PA), Rep. James Langevin (D-RI) and Rep. John Moolenaar (R-MI) for cosponsoring HR 4982.
Rep. Judy Chu (D-CA) for sponsoring HR 3668, the Asuncion Valdivia Heat Illness and Fatality Prevention Act of 2019, which would require the Occupational Safety & Health Administration (OSHA) to write a standard to protect workers from the harmful effects of exposure to heat stress, and direct the agency to allow employers to protect workers through use of engineering controls, administrative controls or personal protective equipment.
"It's inspiring and refreshing to see bipartisan legislative leadership on issues of such importance to the safety of American workers," said ISEA President Charles Johnson. "The work these legislators have been doing in Congress is vital and deserves to be recognized."
About ISEA
Headquartered in Arlington, Virginia, the International Safety Equipment Association (ISEA) is the trade association in the U.S. for personal protective equipment and technologies. Its member companies are world leaders in the design, manufacture, testing and distribution of protective clothing and equipment used in factories, construction sites, hospitals and clinics, farms, schools, laboratories, emergency response and in the home. Since 1933, ISEA has set the standard for the personal protective equipment industry, supporting member companies united in the goal of protecting the health and safety of people worldwide.