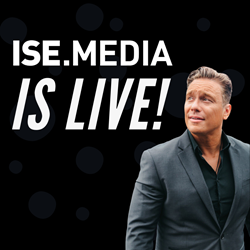 We are creating a media company that is not simply for the people, but is being created by the people. That is power.
ATLANTA (PRWEB) July 23, 2020
The Isegoria team is thrilled to announce the beta launch of ISE Media, the media platform of Isegoria. In this first phase, ISE Media will be streaming original content produced by Emmy Award-winning investigative journalist Ben Swann, in addition to content partners that will be announced soon. This content will be exclusive and semi-exclusive to ISE Media and will not be available anywhere else.
Along with the launch of ISE Media, Isegoria also announces the launch of its equity crowdfunding campaign. With this campaign, participants will own a part of ISE Media and have a say in the content and direction on the platform.
ISE Media is more complex than a simple website. It will consist of multiple verticals, including: ISE, a 24/7 streaming channel offering daily newscasts, entertainment, docudramas, video podcasts, and independent media content; ISE Quality, a section tailored for independent channels providing content that has been purged from other platforms; and ISE Indie, a section where smaller independent journalists and content creators may present project proposals to the ISE treasury system. These verticals require a number of resources to implement; with the encouragement and pre-commitments already made by early supporters, Isegoria is poised to swiftly make this vision a reality.
"I am honored to share with you a platform that I believe will change how we create and consume media," said Swann.
"If you believe that what you are hearing and seeing on your television, your phone or on your computer is untrue, where do you go to dissent? Where do you go to push back? Where do you go to question what's happening around you? We are creating a media company that is not simply for the people, but is being created by the people. That is power."
The need for Isegoria is more urgent than ever, with countless content and creators being purged from mainstream platforms every single day. Isegoria has assembled a dedicated, hardworking team to make this platform come to fruition. This equity crowdfund will ensure that the team has the tools needed to quickly move this project forward and become the world's first truly responsive news, information and entertainment platform, and this campaign allows participants to have a stake in the platform.
The ISE Media crowdfund campaign can be found by clicking here.
About Isegoria and ISE Media:
There is an illusion of a free marketplace for ideas and debate in American and global media, when in fact powerful platforms are deciding which thoughts, ideas and messages the public will be allowed to hear, discuss and debate. Isegoria aims to capitalize on big tech's deplatforming, demonetizing and silencing of quality independent journalists and entertainers by building ISE Media, a platform where content creators can share their work without fear of censorship by providing them this platform to distribute content to millions of people who digest their content daily.
Isegoria is poised to create a platform that delivers unbiased, unfiltered information, and is committed to making the media industry radically transparent. Featuring original documentaries, shows, video podcasts, news programming and more, ISE Media is a platform unlike any the world has seen. For more information regarding our platform and mission, please visit the Isegoria website.