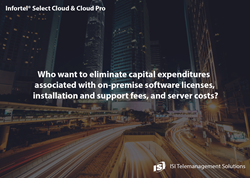 SCHAUMBERG, Ill. (PRWEB) October 25, 2018
ISI Telemanagement Solutions, a leading Unified Communications (UC) management solutions provider, is pleased to announce Infortel® Select Cloud and Cloud Pro. Infortel Select software is moving to the cloud with ISI's hosted Unified Communications (UC) Reporting solutions. Now clients can leverage ISI's secure data center and experience UC professionals to help recap maximum benefits. Clients can now choose from either of ISI's hosted service offerings: Infortel Select Cloud offered as an End-User Managed Software as a Service, or Infortel Select Cloud Pro offered as an ISI Hosted and Managed UC Reporting Service.
Both service offerings replace up-front expenses with a low, scalable service fee. ISI provides implementation and ongoing back office system administration, while the end user retains full access to the application through a secure web browser interface. This new offering will allow clients to eliminate Capital Expenditures, have expert Application Management, and Optimal Expandability to grow as an organization.
For more information, visit our website: https://www.isi-info.com.
About ISI Telemanagement Solutions
ISI is a global leader in Unified Communications management solutions for voice, video, Jabber IM compliance, and meeting rooms. ISI offers a broad portfolio of certified solutions for managing usage, content, people, and expenses, through UC reporting & traffic analytics, collaboration recording, speech analytics, and workforce management.