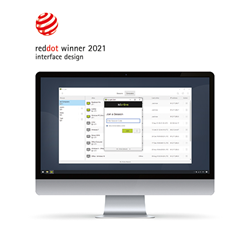 As an award-winner you know how to react with agility in times of crisis and use the upheaval as an impetus for new design approaches.
LJUBLJANA, Slovenia (PRWEB) November 15, 2021
In one of the largest design competitions in the world, ISL Online impressed the international 24-member jury with clear design and a great user experience. "We managed to stand out among thousands of designers, agencies and companies from all over the world who presented their creative projects and brands in the same category. It's great to receive this recognition," Jure Pompe, CEO of ISL Online, shows his excitement.
ISL Online provides reliable remote desktop software that allows businesses and individuals to remotely support and manage computers and mobile devices, or access unattended computers from anywhere in the world. Recently, many businesses have moved to working from home using technology they had never used before with very little time for training. ISL Online's intuitive and simple design allows users to quickly understand how the tool works. Clear and structured navigation makes it easy for users to access and operate remote devices efficiently, draw on the remote screen or even look through the remote camera. With a user interface that has been modified over the years with the help of extensive customer feedback, ISL Online is extremely easy to use.
In the evaluation process, the jury placed great emphasis on the creative idea, form and communicative impact of the submissions. Prof. Dr. Peter Zec, founder and CEO of Red Dot, congratulated ISL Online on winning the Red Dot Award: "As an award-winner, you have proven that you think outside the box. You know how to react with agility in times of crisis and use the upheaval as an impetus for new design approaches. In doing so, you master important challenges and at the same time make a valuable contribution to the evolution of society."
About ISL Online
ISL Online provides secure and reliable software for remote support, remote access and teleworking. ISL Online allows users to remotely access and control any Windows, Mac or Linux computer from any computer or mobile device in seconds, or provide ad hoc technical support to mobile device users. Since 2001, ISL Online has been used by millions of IT professionals and help desk technicians from small and medium-sized businesses to Fortune 500 companies across 100 countries worldwide. http://www.islonline.com
About Red Dot
The Red Dot Design Award is one of the biggest design competitions in the world. In three disciplines, over 20,000 participants submit their products, communication projects and brands as well as prototypes and concepts. The distinction "Red Dot" is an internationally recognised seal of excellent design.