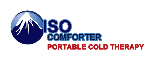 PALM CITY, Fla. (PRWEB) July 04, 2019
ISOComforter, a company that retails effective products for cold therapy pain relief, is pleased to debut its redesigned multi-purpose pad.
The multi-purpose pad is a component of the complete cold therapy system. Pads are used to help relieve pain and swelling where necessary, such as on the shoulder, back, hip, or knee. The redesign includes upgraded materials that better retain the cold coming from the therapy unit, and stronger Velcro straps to keep the pad comfortably in place for longer periods of time.
ISOComforter's cold therapy products can be used by anyone that needs to relieve pain due to injury, sports, surgery, or inflammation. The cold packs reduce healing time, and in many cases, also helps to reduce the need for pain medication.
Customer service is a priority for ISOComforter; someone is standing by to help you with your order and answer any questions you may have.
Visit https://isocomforter.com/products/ and watch ISOComforter's video on YouTube to learn more. Products also retail on ISOComforter's website and at Amazon.com.
About IsoComforter:
Forget melting bags of ice and messy, mushy bags of frozen peas! IsoComforter provides clean and efficient cold therapy that promotes healing while reducing the risk of infection to the damaged area. All IsoComforter's products are designed to be easy use, clean, carry, wear and maintain. IsoComforter is pleased to have its own cold therapy system that keeps wounds clean and dry with virtually no condensation, and a complete shoulder machine that helps in rotator cuff surgery recovery.
Contact Details:
IsoComforter, Inc.
4215 SW High Meadows Avenue
Palm City, Florida 34990
Phone: 1-877-277-0367
Fax: 1-772-220-6645
Source: IsoComforter, Inc.