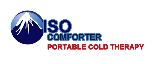 PALM CITY, Fla. (PRWEB) December 11, 2018
IsoComforter, the portable cold therapy product supplier reducing recovery time for post-operative patients and those with sports and other injuries, announces a new discount of 31 percent on its complete lumbar system.
The body's lumbar system, located in the lower back, is comprised of a portion of the spine and several muscles. Common injuries to this area include strained muscles, damage to vertebrae, bone degeneration, fractures, and herniated disks.
IsoComforter's cold therapy complete lumbar system eases the pain for those that have undergone lumbar spine surgery, suffer from back discomfort, have experienced lower back trauma, and more. The system includes a 10 x 10 pad and lumbar warp, along with a cold therapy unit power supply. The wrap fits securely, eliminating the need to cool the affected area with messy and unhygienic bags of frozen vegetables or ice.
The complete lumbar system is on sale with a 31 percent discount. To learn more about this promotion, or about Iso Comforter, visit the company online at isocomforter.com. To purchase select Iso Comforter products on Amazon, visit the company's Amazon page.
About IsoComforter:
Forget melting bags of ice and messy, mushy bags of frozen peas! IsoComforter provides clean and efficient cold therapy that promotes healing while reducing the risk of infection to the damaged area. All Iso Comforter's products are designed to be easy use, clean, carry, wear and maintain. IsoComforter is pleased to have its own cold therapy system that keeps wounds clean and dry with virtually no condensation, and a complete shoulder machine that helps in rotator cuff surgery recovery.
Contact Details:
IsoComforter, Inc.
4215 SW High Meadows Avenue
Palm City, Florida 34990
Phone: 1-877-277-0367
Fax: 1-772-220-6645
Source: Iso Comforter, Inc.