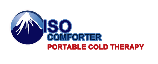 PALM CITY, Fla. (PRWEB) July 31, 2018
IsoComforter, a portable cold therapy product supplier that sells from its retail location and on Amazon, is welcoming queries from companies interested in distributing its products.
Iso Comforter is a leader in cold therapy solutions. Its patented pads and portable cold therapy packs are used by those recovering from surgery, by athletes with sprains and injuries, as part of muscle or joint therapy, and more. Iso's products have been proven to expedite healing, reduce pain and inflammation, and reduce the need for pain medications.
Some of the products available for distributors to carry include: the complete lumbar system, the complete cold shoulder system, the multi-purpose knee system, and the multi-purpose shoulder wrap.
Companies in the medical product and pain management industries can contact Iso Comforter by phone or email to enquire about becoming a distributor. Questions regarding your company information and geographical distribution area will be assessed. More contact details, and more information about ISO Comforter are on the company's FAQ page.
To learn more about Iso Comforter, visit the company online at IsoComforter.com. To purchase select Iso Comforter products on Amazon, visit the company's Amazon page today.
About IsoComforter:
Forget melting bags of ice and messy, mushy bags of frozen peas! IsoComforter provides clean and efficient cold therapy that promotes healing while reducing the risk of infection to the damaged area. All Iso Comforter's products are designed to be easy use, clean, carry, wear and maintain. IsoComforter is pleased to have its own cold therapy system that keeps wounds clean and dry with virtually no condensation, and a complete shoulder machine that helps in rotator cuff surgery recovery.
Contact Details:
Iso Comforter, Inc.
4215 SW High Meadows Avenue
Palm City, Florida 34990
Phone: 1-877-277-0367
Fax: 1-772-220-6645
Source: IsoComforter, Inc.