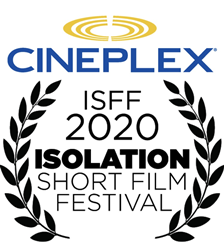 "I am incredibly blown away by the number of submissions we received, but more importantly the high quality and creativity of the films have completely exceeded all of my expectations." Said Steven Mann, Founder of The Canadian Isolation Short Film Festival
TORONTO (PRWEB) May 07, 2020
The Canadian Isolation Short Film Festival is pleased to announce its expansion through a recent partnership with Cineplex, one of Canada's leading entertainment and media companies. The festival, created by Mann Casting and supported by ACTRA Toronto, eBOSS and Stay At Home Heroes was created to provide a creative outlet showcasing Canadians' experience with isolation through film during the pandemic.
The inaugural festival officially kicked off on April 16th, 2020, and to-date has received an overwhelming response from Canadians coast-to-coast. In just a few short weeks, the festival has received hundreds of submissions.
The festival invites any Canadian citizen to shoot a short film (3 minutes maximum) and submit it by May 11th, 2020. The entries will then go to a panel of esteemed judges who will choose a winner, which will be announced at a live-streamed awards gala event on May 23rd, 2020.
"I am incredibly blown away by the number of submissions we received, but more importantly the high quality and creativity of the films have completely exceeded all of my expectations." Said Steven Mann, Founder of The Canadian Isolation Short Film Festival and Casting Director and Founder of Mann Casting. "I am thrilled that Cineplex has chosen to come on board as our partner to help us further expand and support the festival." He added.
"We're proud to partner with the Canadian Isolation Short Film Festival to support Canada's film industry and its filmmakers. During this time, Cineplex is encouraging movie-lovers to #StayHomeEatPopcorn and this fun and creative festival is another great way for Canadians to remain entertained," said Michael Kennedy, Executive VP Filmed Entertainment, Cineplex. "As Canada's largest film exhibitor, we love that this festival includes creators from across our country and I can't wait to see the winning submissions."
The Isolation Short Film Festival has already collected hundreds of submissions to-date and looks forward to more. Let us see through your lens! For more information, or to submit your short film visit: http://www.isolationshortfilmfest.com, Twitter, Facebook, Instagram
About Mann Casting
Mann Casting is a Nationally renowned and award-winning casting agency which has been led by Steven Mann for over 15 years. Mann Casting has been involved in casting over 2,500 jobs including award-winning TV commercials; from the Bessie Awards to the Gold Lion Awards to Super Bowl spots.
About Cineplex
Cineplex (TSX:CGX) is a top-tier Canadian brand that operates in the Film Entertainment and Content, Amusement and Leisure, and Media sectors. A leading entertainment and media company, Cineplex welcomes millions of guests annually through its circuit of theatres and location-based entertainment venues across the country. In addition to being Canada's largest and most innovative film exhibitor, Cineplex also operates successful businesses in digital commerce (CineplexStore.com), food service, alternative programming (Cineplex Events), cinema media (Cineplex Media), digital place-based media (Cineplex Digital Media) and amusement solutions (Player One Amusement Group). Additionally, Cineplex operates Canada's favourite destination for 'Eats & Entertainment' (The Rec Room) and entertainment complexes specially designed for teens and families (Playdium). Cineplex is a joint venture partner in SCENE, Canada's largest entertainment loyalty program.
About Stay At Home Heroes
Launched in March 2020 as a response to Prime Minister Justin Trudeau's call to action to help "plank the curve," Stay At Home Heroes was created to provide content to Canadian Citizens during the COVID-19 crisis that motivates and provides information on how to self-isolate, stay healthy, and maintain social and physical distancing. For more information visit http://www.stayathomeheroes.com, #stayathomehero #plankthecurve
About eBOSS
eBOSS is the Entertainment Business One-Stop Shop and is quickly becoming the HUB for the Canadian Entertainment Industry. Their mission is to build a bridge between the creatives and the opportunities. It is the fastest-growing FREE-to-join social network that brings the Canadian Film, TV, Commercial, Theatre and Music industries together - under ONE roof.
About ACTRA
ACTRA Toronto is the largest organization within ACTRA, representing more than 15,000 of Canada's 27,000 professional performers working in recorded media in Canada. As an advocate for Canadian culture since 1943, ACTRA is a member-driven union that continues to secure rights and respect for the work of professional performers.
For Further Information:
Jess Moran
Principal & Founder
JESSCO
1-519-494-5379
publicistjess@gmail.com