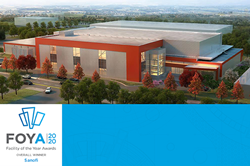 ST. PETERSBURG, Fla. (PRWEB) November 03, 2020
The International Society for Pharmaceutical Engineering (ISPE) has announced Sanofi as the 2020 Facility of the Year Awards (FOYA) Overall Winner at the 2020 FOYA Banquet during the virtual 2020 ISPE Annual Meeting & Expo.
Sanofi was awarded the 2020 FOYA Facility of the Future Category Award in April 2020 for its Sanofi Digitally Enabled Integrated Continuous Biomanufacturing Facility in Framingham, Massachusetts, USA. This fully integrated bioprocessing facility takes the application of disposable process technology and flexible facility design to a new level. Using the best of already proven technology and design, they've expanded the use to allow design and construction of a facility that enables continuous upstream and downstream processing.
Sanofi have achieved a facility with higher capacity in a smaller footprint than traditionally achievable. This has provided the basis for:

80 times more production capacity than traditionally achieved, leading to potentially reaching more patients
More than 90% reduction in chemical usage per year
More than 90% reduction in water usage per year
80% reduction in energy consumption and CO2 emissions per year
More than 320 tons of waste saved from landfills every year
From the early design phases Sanofi was dedicated to incorporating a full set of lean operations principles into the design. They have broken new ground in digital integration. The entire facility is run using a comprehensive suite of digital solutions.
For more information on Sanofi's award-winning biomanufacturing facility and the FOYA program, please visit ISPE.org/Facility-Year-Awards.
About the ISPE Facility of the Year Awards Program
Established in 2004, the Facility of the Year Awards (FOYA) recognizes state-of-the-art projects utilizing new, innovative technologies to improve the quality of products, reduce the cost of producing high-quality medicines, and demonstrate advances in project delivery. The FOYA program provides a platform for the pharmaceutical science and manufacturing industry to showcase its accomplishments in facility design, construction, and operations, while sharing the development of new applications of technology and cutting-edge approaches.
About ISPE
The International Society for Pharmaceutical Engineering (ISPE) is the world's largest not-for-profit association serving its members through leading scientific, technical, and regulatory advancement across the entire pharmaceutical lifecycle. The 18,000 members of ISPE are building solutions in the development and manufacture of safe, effective pharmaceutical and biologic medicines, and medical delivery devices in more than 90 countries around the world. Founded in 1980, ISPE has its worldwide headquarters and training center in North Bethesda, Maryland, USA, and its operations center in Tampa, Florida, USA. Visit ISPE.org for more information.
For more information, contact:
Amy Henry
Marketing Communications Manager
International Society for Pharmaceutical Engineering (ISPE)
Email: ahenry@ispe.org
ISPE.org