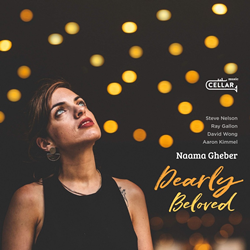 The creation of this record has been a yearlong adventure. I feel like I went through a full range of experiences--failure, success, excitement, anxiety, disappointment, and fulfillment. What makes it mine is the unique balance within these factors. A balance that is only true to me.
RICHMOND, Calif. (PRWEB) February 14, 2020
Noted vocalist Naama Gheber makes her auspicious, radiant recording debut with "Dearly Beloved," to be released April 10 on Cellar Music Records, preceded by the release of two singles—the title track on February 14 and "So in Love" March 13. The New York-based singer (by way of Beér Sheva, Israel), who first turned heads during her yearlong residency at Manhattan's Mezzrow Jazz Club, engages the superb trio that has long supported her at that residency (pianist Ray Gallon, bassist David Wong, and drummer Aaron Kimmel) for a dozen interpretations of classic jazz standards. She is given a further helping hand from esteemed vibraphonist Steve Nelson, who features on five tracks.
Gheber fell in love with the singers and tunes from the Great American Songbook while studying at the Center for Jazz Studies in Tel Aviv. "I immediately felt at home with standards and worked on finding my own voice within them," she explains. "I was just trying to sound like myself." When it came time to make an album, she chose the ones for which she felt the deepest personal significance. "Recording songs that I feel strongly connected to was a way to bring myself to the album."
There can be no doubt about those strong connections in Gheber's singing of "So in Love," infusing it with pitch-perfect mood and intimacy, or in her fond playfulness on "Just Squeeze Me" and "I Can't Give You Anything But Love." Her feeling for the material also allows her to give sophisticated expression to them, as in her charming mix of ruefulness and romance on "Since I Fell for You" or the astonishing compound of joy, tenderness, and a tinge of longing on "Good Night My Love."
The impact of Nelson's presence on "Dearly Beloved" is difficult to understate. He is a vibraphonist of considerable prowess, which he honed through years of work with the likes of Dave Holland, Mulgrew Miller, and Donald Brown. But for all his virtuoso chops, he improvises behind Gheber using first and foremost his gift for memorable, lyrical melodic statements (as on his solo on the title track, and both his solo and luminous fills on "You Stepped Out of a Dream"). Likewise, Gheber has formulated a powerful chemistry with the trio of Gallon, Wong, and Kimmel, clearly evident in the delight and aplomb the quartet lend to the swinging "'SWonderful."
Naama Gheber was born in Beér Sheva, Israel on January 2, 1991. Though she primarily grew up in the city in the Negev Desert, she spent four of her early childhood years living in Baltimore, Maryland, while her parents attended Johns Hopkins University. It was the start of a lifelong bond with America and American culture.
The child of a musical family, Gheber sought to be a singer from her youth. Instead, she trained as a classical pianist until her final year of school, when a graduation gift from her grandparents enabled her to take voice lessons from legendary Israeli singer Riki Gal. She learned Gal's Hebrew songs, but it was on an unusual attempt at Ray Charles's "Hit the Road, Jack" that both Gheber and Gal realized her gifts were uniquely suited to American music.
Thus inspired, she enrolled in Tel Aviv's Center for Jazz Studies after completing her mandatory military service, where she first encountered such singers as Ella Fitzgerald, Billie Holiday, and Helen Merrill. "I was seduced by their urbane lyrical style," she recalls; Gheber had found her creative direction.
She left Tel Aviv for New York in 2015, after receiving a scholarship to study music at the New School. (She graduated in 2017.) Though she was a stranger in a strange land, she began frequenting jazz clubs to ingratiate herself with the scene, drawing on her experiences in Baltimore to relate to her new acquaintances. She soon developed a network of connections—not least among them pianist Ray Gallon, bassist David Wong, and drummer Aaron Kimmel, a relationship that was solidified when they began accompanying her in regular late-night sets at Mezzrow in Greenwich Village. (She'll next be performing there Tues. 3/3, and Tues. 4/14 [10:30]. Gheber's CD release show is set for Sat. 5/9 [8:30] at Café Bohemia, NYC. Upcoming European shows include Hot Club, Lyon, France, 3/26; Clarence Jazz Club, Malaga, Spain, 3/28; Ultamar Jazz Club, Girona, Spain, 4/2; La Boveda, Zaragoza, Spain, 4/3.)
"The creation of this record has been a yearlong adventure," says Gheber. "I feel like I went through a full range of experiences—failure, success, excitement, anxiety, disappointment, and fulfillment. In the end, this process, like this album and, really, like life itself, is a lot of everything. What makes it mine is the unique balance within these factors. A balance that is only true to me."