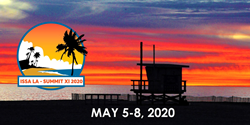 The fact that for us it is a local event and it is held LITERALLY on the beach, is definitely a plus - ITSP Magazine
LOS ANGELES (PRWEB) March 04, 2020
On May 5-8 2020, ISSA Los Angeles will host its 12th Annual "Information Security Summit" aka Summit XII. This event will be held at the beautiful Annenberg Community Beach House along the shores of the Pacific Ocean in Santa Monica, CA. ISSA-LA Summit XII is the must-attend cybersecurity event this year. The Summit is designed to bring together the IT and InfoSec industry in Los Angeles, with everyone from professionals to students being welcomed. This is an opportunity to network, learn from speakers and trainers, and collaborate with each other to help bring back solutions to your organization. https://summit.issala.org
Keynote Speakers
We are bringing you some of the best keynote speakers in our industry:

Ronald Ross, National Institute of Standards and Technology Computer Security Division
Diana Kelley, Microsoft Cybersecurity Field CTO
Richard Clarke, FUTURE STATE Podcast Host
Walter O'Brien, Scorpion Computer Services Founder
Training Classes
ISSA-LA has established itself and is known for its amazing lineup and exceptionally valuable information security classes which are offered during its annual Summit. This year is no exception; these classes which normally sell for much more at other conferences provide the best value for your money. Save yourself and your company hundreds of dollars and improve your skills about some of the most current important technologies and methodologies. Whether you are a seasoned InfoSec leader, a security analyst or a consultant, an IT pro or a coder, we have great options for you to choose from. https://summit.issala.org/training/
We are proud to present 6 classes with great trainers:
[2-Day Training]
[1-Day Training]
About the Trainers (for full bio please see https://summit.issala.org/#tile_registration)
[Kevin Cardwell] from Elite Security and Forensics, served as the leader of a 5-person DoD Red Team that achieved a 100% success rate at compromising systems and networks for six straight years. He has conducted over 500 security assessments across the globe. His expertise is in finding weaknesses and determining ways clients can mitigate or limit the impact of these weaknesses.
[Jim Manico] is the founder of Manicode Security where he trains software developers on secure coding and security engineering. He is also the founder of Brakeman Security, Inc. and is an investor/advisor for Signal Sciences. Jim is also a frequent speaker on secure software practices, a member of the JavaOne Rockstar Speaker community and is the author of "Iron-Clad Java: Building Secure Web Applications" from McGraw-Hill and Oracle Press. Jim also volunteers for the OWASP foundation where he helps build application security standards and other documentation.
[Jeff Tutton] has conducted over 200 onsite security assessments, Incident Response and Remediation projects for some of the largest and most complex merchants, processors, card brands, and banks in the world and has over fifteen years' experience in the Regulatory and Security Compliance industry. Mr. Tutton was the lead Incident Responder and Remediation Project Manager for a team of 50 top Cybersecurity Engineers for a Global Cybersecurity multi-year project for a Fortune 5 Company.
[Georgia Weidman] is a serial entrepreneur, penetration tester, security researcher, speaker, trainer, and author. She is a member of the CyberWatch Center's National Visiting Committee, on the board of advisors at Cybrary, and an Adjunct Professor at UMUC and Tulane University. She is a New America Cybersecurity Policy Fellow, and was the 2015 Women's Society of CyberJutsu Pentest Ninja. She holds a MS in computer science and CISSP, CEH, and OSCP certifications.
[Mike Gentile] has been on the front lines of research and practical implementation for countless organizations, from bootstrapped startups to globally recognized billion-dollar organizations in security program development. He holds patents in the security management domain and is a co-author of both The CISO Handbook and CISO Soft Skills. Mike has contributed to numerous publications and has delivered more than 100 presentations on information technology and information security.
[John Kennedy] John is currently a Senior Incident Response Engineer at a leading healthcare provider. He has several years of experience using scripting to solve business, technology, and operational problems. John is passionate about #devchatsecops and securing all the things.
[Chris Ingram] has two decades of experience in various technology-based roles including those in Information Security, Systems Engineering, and Software Engineering. A long and varied history of building and breaking has fostered development of a variety of field-honed skills backed by the context of experience. Chris spends most days designing, building, securing, and automating systems both in the cloud and on premises for large enterprises with tight security and compliance requirements.
[Yev Avidon] is an information privacy, security and compliance professional and a non-profit board member. Yev started his career as an IT auditor working at major companies in the Finance and Healthcare industries. Pursuing his career further, Yev moved to information security and risk management working for a large media company, consulting company and large telecommunication company. Yev served as a member of the Information Security Advisory Committee at the UCLA Extension and serves as president at ISC2 Los Angeles Chapter and holds an MBA in Information Security, and CISSP, CISA and CCSK certifications.
[Mark Keelan] has over thirty-five years as an IT expert. He has worked for IBM digital analytics team, Peoplesoft as a CRM Product Manager, InterSec Worldwide forensics firm, and more. Mark has an extensive background in ERP, CRM, cybersecurity, and privacy systems. Currently he is the Director, Privacy Practice at UST Global, a 25,000 person multinational consulting firm headquartered in Aliso Viejo, CA.
[Karina Klever] is the founder of Klever Compliance, a company whose purpose is to mature clients' governance postures. Karina started her IT career in 1989 as a computer operator. In the following 30+ years, her career culminated in executive leadership roles which reinforced that growth occurs when companies apply best practice frameworks consistently. Karina built a company on this simple principle and applies extensive experience from varied industries to her clients - so that proper balance is applied to controls establishment, regulatory adherence preparedness, maturity measurement, alleviation of chronically faulty processes, and appropriate risk management. Karina is also an ISSA-LA Advisory Board Member.
Training prices are as follows:

$400 for the 1-day sessions
$800 for the 2-day sessions
NOTE: All training classes include complimentary admission to attend ISSA-LA Summit XII Talks on Thursday and Friday, May 7th-8th. It's like getting extra training for FREE!
Can't make it to the training? No problem. Attendance to Summit XIII is available separately - register now to get a discounted price of only $95; Prices will go up to $165 on April 17th and they will be $295 at the door, so don't delay, secure your spot now. https://summit.issala.org/#tile_registration
Career Summit
This year we are introducing the Career Summit at the ISSA-LA Summit. If you're looking for a new role or just want to see what opportunities our sponsors have available, you can send your resume to summit_resumes@issa-la.org
Diversity and Student Discounts
ISSA Los Angeles is dedicated to increasing diversity in the workplace while also helping solve the information security talent shortage. With these goals in mind, the conference is providing diversity scholarships (LGBTQ+, People of Color, Women, Military Veterans, etc.) that cover the price of admission to the Summit. We are hoping to attract underrepresented groups of information security practitioners, or students looking to learn more about security. Please reach out to admin@issa-la.org for more information.
Students
ISSA Los Angeles also believes strongly in supporting the next generation of InfoSec professionals. Full time enrolled students are eligible to receive a 2-day conference registration ticket on Thursday and Friday, May 7th-8th for only $25 (75% discount!) See terms and conditions here: https://summit.issala.org/#tile_registration
Sponsorship
Sponsorship opportunities are also available, both for the media and for vendors in the IT and information security industry. Sponsors will get the opportunity to show and discuss their solutions to hundreds of key decision-makers in IT and information Security. There are various Sponsorship packages at different levels to suit all marketing budgets. See details here for the full range of sponsorships, and let us help you grow your business: https://summit.issala.org/sponsors/
ISSA Los Angeles Chapter
The Information Systems Security Association - Los Angeles Chapter (ISSA-LA) is the founding Chapter of the Information Systems Security Association International (ISSA)®. Founded in 1982 by Sandra Lambert and Nancy King, ISSA-LA is the premier catalyst and community resource in Southern California for improving the practice of information security. The Chapter provides various training classes and lectures for information Security and IT professionals throughout the year and at the annual Summit. ISSA-LA has a CISO Forum that brings together CISOs and Heads of Security quarterly at various companies throughout Southern California. ISSA-LA meets monthly for lunch and dinner and regularly collaborates with other IT and InfoSec organizations, having joint meetings with ISACA, OWASP, the Cloud Security Alliance, HTCIA, and the Association of IT Professionals to name a few.
Join the movement today!
https://www.issala.org/
https://www.meetup.com/ISSA-LA/
https://www.facebook.com/ISSA4LA
https://twitter.com/issala
https://summit.issala.org/
https://www.linkedin.com/company/issa-la/