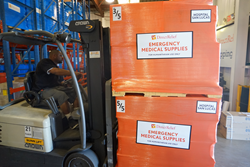 SUNRISE, Fla. (PRWEB) August 31, 2018
Many of the medications donated are difficult and expensive for the Government to acquire, such as medications for cancer, mental health and required blood clotting agents used during surgery. The donations of Survanta – which is used to treat Respiratory Distress Syndroms (RDS) in premature babies and can be cost prohibitive – have helped significantly in lowering neonatal mortality rates.
Direct Relief also donated US$31,000 of pharmaceuticals to assist in the country's Hurricane Preparedness which included antibiotics, inhalers, gauze, gloves oral rehydration salt, needles, syringes, sutures, blood pressure machines, trauma supplies, splints, patient monitoring systems, pulse oximeters, stethoscopes, digital thermometers with covers and operating supplies.
Diane Pollard, President & CEO of the Issa Trust Foundation stated, "We are thankful for the generosity and humanitarian efforts by our partner, Direct Relief. The impact has been felt islandwide and has helped lower morbidity and mortality in addition to neonatal mortality rates. Last year, the devastating hurricanes that swept through the Caribbean called for significant humanitarian response. We hope the donations provide some relief and strengthen the country's disaster planning."
"The Issa Trust Foundation has brought Tens of Millions of Dollars of medical supplies to Jamaica over the past four years and in so doing has saved the lives of countless Jamaicans. The efforts of the Foundation in the area of neonatal care are particularly worthy of note as it has relieved the shortage of life saving medication for our nation's babies. We are deeply appreciative of the work of the Foundation and its partner, Direct Relief, for the care and compassion shown to the Jamaican people in provided much needed medication for mental health and cancer care. Jamaica values the partnership with the Issa Trust Foundation and we in the Ministry of Health and at the National Health Fund will redouble our efforts to strengthen the relationship. Our sincere and heartfelt thanks to you and your Trustees." -Dr. the Hon. Christopher Tufton, MP, Minister of Health