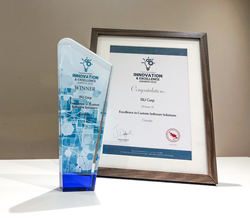 "We would like to thank all of our fantastic employees and clients for their support in helping us win this award." -David Mansilla, Founder and CEO
KITCHENER, Ontario (PRWEB) June 10, 2020
ISU Corp, a leading custom software solutions enterprise, has been awarded the Innovation and Excellence Award 2020 by CorporateLiveWire for Excellence in Custom Software Solutions.
CorporateLiveWire Innovation and Excellence Awards is a global recognition administered annually. Their judges value and award dedications to companies that demonstrate accredited innovative achievements and exceed in quality client testimonials.
CorporateLiveWire's mission is to provide business professionals and individuals in the corporate sector with information on the latest news and developments from around the globe. They have awarded ISU Corp with this coveted title due to their history of outstanding work and their newest solution, ISU Core, which streamlines the custom application building process. Companies will be able to exponentially increase their profits with this amazing tool.
"We would like to thank all of our fantastic employees and clients for their support in helping us win this award."
- David Mansilla, Founder and CEO
About ISU Corp
ISU Corp focuses on working with companies that are striving for success and to increase their net profits by using exceptional custom software solutions such as the revolutionary cloud platform, ISU Core.
At ISU Corp they are proud to offer the best of the best with their specially selected IT professionals. Together, they bring a world class team of technology innovators with experience in a wide variety of business software solutions. With their collective skills, resourcefulness and perseverance, they can ensure completion of every project with total client satisfaction. They focus on their ability to overcome and adapt to any situation in a variety of industries such as insurance/finance, ecommerce, laboratory analytical solutions (LIMS), blockchain and artificial intelligence.
ISU Core is the most advanced cloud application platform that accelerates custom application development. From smaller businesses to larger enterprises, ISU Core can save companies more than 30% of the total project cost. More importantly, it saves a significant amount of time and effort during the first phase of any software project. ISU Core is built using the best software development practices, security and frameworks. It can be up and running within two days with your own infrastructure, branding customization and it is artificial intelligence ready. Whether you're looking to build a stand-alone software, SaaS (Software as a Service), or automate any business process, with ISU Core, we can focus on your actual business needs. ISU Core] is at the forefront of technological advancements. Follow the link to learn more about the ISU Core Product.
"Our clients' success is our main objective; we always do whatever it takes to ensure that their projects are adding massive value to their bottom line. We know that our clients are actually our partners, and the only way we succeed is by making them grow and prosper."

One of ISU Corp's main advantages is their award-winning ISU Agile business process. Their agile approach, doing small iterations at a time, ensures that they can review all the business requirements of their clients on a weekly basis to better meet the client company's goals and expectations, thus ensuring project success.
Learn More About ISU Corp