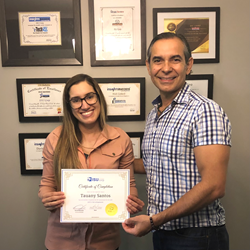 When I came to Canada it was incredibly hard to even get an interview for positions in my field of study, but after completing my ISU Corp Developer Certificate I was able to find a job in just one week! - Tauany Santos
KITCHENER, Ontario (PRWEB) October 06, 2020
Tauany Santos has been in Canada for just over a year, and because of her certificate with ISU Corp, she was able to find a tech job without having to redo her schooling.
Tauany is originally from Brazil. She graduated from University there in 2017 with a BA in Information Technologies, but to better her future; she left to move to Canada with her husband.
Beginning anew in a brand new country, needing to learn the language, and wanting to work in the field of her education, Tauany found it very difficult at first to get her foot in the door. She worked hard to keep her dream alive and thriving by participating in ISU Corp's Pre-Qualified Developer certification.
With this, she was able to develop her skills in Canada and gain valuable knowledge and experience. After just a few months, she had fully completed her certificate. She also was able to show potential employers that she had a certification with an industry-leading software company. Only a few weeks later, she was able to get a job in her field of interest.
For many new Canadians, getting a job in what you went to school for is an incredibly difficult task. Most have to go back to school to attain the proper qualifications, but with ISU Corp's certification, Tauany was able to streamline this process.
Tauany applied her knowledge and willingness to succeed to be able to keep growing and do what she set out to do. Now she's been able to create the life of her dreams in Canada.