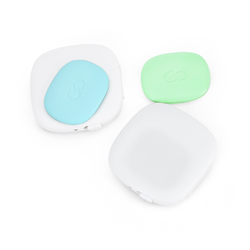 Instead of uncomfortable braces, this device truly allows children to build habits that stick.
Shenzhen, Guangdong (PRWEB) May 24, 2017
Maintaining a healthy posture has been more difficult than ever. Kids today face higher educational pressures, while smart-phones and computer games keep them indoors. Yet, parents don't always have time to correct their habits.
"The increasing frequency and duration of smartphone usage has become a ticking time bomb resulting in tension in the neck, shoulders, and arms," says iSWEO cofounder Dr. Santagata. Many doctors believe when such risks are ignored this could result in chronic posture issues when kids grow older.
The Chinese tech startup, iSWEO, believes it has found the ultimate solution: a digital posture device called 'Tirami-su'. Though the name refers to a very famous Italian coffee cake, many do not know that it literally means 'lift me up'.
"We believe that Tirami-su is a simple device that makes a big difference," says Santagata. To use the robot posture coach, parents simply need to turn it on and have their kids wear it with a magnet clasp on their shirt. It memorizes the correct posture and it will vibrate when the user slouches away. "Instead of uncomfortable braces, this device truly allows children to build habits that stick," says Santagata.
By wearing the Tirami-su, kids will maintain a better posture whether they're playing computer games, reading books, or making homework. "One kungfu school teacher even applied our device to improve children's kungfu stances," says production manager Lin. Besides optimizing the software, iSWEO also refined the hardware and materials. "Based on early user feedback, we've made sure our robot posture coach is radiation free. The material and paint used is completely skin safe to take all the worries away of parents," Lin says.
After a successful launch in China, iSWEO is now in discussion with distributors worldwide to expand its global reach.