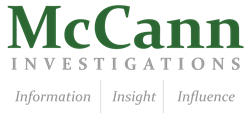 There's no need to sit around and wait for something bad to happen to your network
San Antonio, TX (PRWEB) December 11, 2013
McCann Investigations, a firm in Texas that specializes in private investigations and digital security services, recently announced that it now provides its network security audits to clients in the San Antonio area.
Network security audits are used by businesses to analyze the strength of their networks and bolster their defenses where they find vulnerabilities. Vulnerabilities that go undetected could otherwise be exploited by hackers, leading to data breaches and the loss of some crucial company and personally identifiable information.
"The network security audits that we provide are an excellent, proactive means of improving your company's data security," said Daniel Weiss, Managing Partner at McCann Investigations. "Our San Antonio digital security analysts thoroughly analyze these networks and are then able to make suggestions for improved security."
McCann's network security auditors meet with IT departments to address any potential areas of concern that exist within the client's network. They then begin a full review of all of the procedures, policies and tools that will be needed to lay the groundwork for an actual network review.
The point of network security audits is to take charge of security before anything bad happens. Data breaches can lead to catastrophic losses of information and a public relations mess for companies and organizations, so these services can save a lot of headache.
"There's no need to sit around and wait for something bad to happen to your network," said Weiss. "These services give people the chance to secure their information for good so that hackers and accidental leaks can be guarded against."
For more information about the services provided by McCann Investigations in the San Antonio area, visit the company's website at http://www.mccanninvestigations.com and follow the company on Twitter at @mccangi.
About McCann Investigations
McCann Investigations is a Texas-based private investigations practice focused on comprehensive investigations incorporating digital forensics, surveillance, undercover work and background checks for clients in various case types. Service areas include intellectual property theft, non-compete enforcement, fraud, embezzlement and family law. McCann Investigators are experts in the latest computer forensics tools and are licensed with the state of Texas. McCann examiners have provided expert testimony and reporting in hundreds of cases across the state.