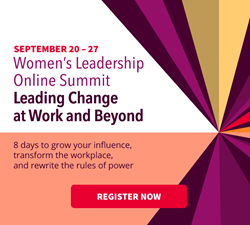 Join us on September 20–27 for the free Women's Leadership Online Summit! Berrett-Koehler Publishers is bringing together a powerful and diverse group of leading CEOs, authors, and social justice advocates to educate, equip, and inspire women to expand their leadership capacity
OAKLAND, Calif. (PRWEB) September 08, 2018
Summit lasts September 20-27th

Get practical tips to amplify your voice, build your capacity for risk-taking, and overcome barriers to your personal success
Equip your team or organization with the best strategies to support women leaders at every level
Get the tools you need to dismantle the systemic issues that hold women back
Connect with a diverse community of women to access and offer support to lift up all of us
Join us on September 20–27 for the free Women's Leadership Online Summit! Berrett-Koehler Publishers is bringing together a powerful and diverse group of leading CEOs, authors, and social justice advocates to educate, equip, and inspire women to expand their leadership capacity.
The summit is free to attend during the eight-day broadcast, with the option to purchase lifetime access to the video recordings, transcripts, and bonus materials for $297. To cohost, we've tapped Berrett-Koehler's very own vice president of international sales and business development, Johanna Vondeling, and former executive director of Race Forward and publisher of http://www.Colorlines.com, Rinku Sen.
With talks from more than 25 experts including bestselling authors like Liz Wiseman (Multipliers: How the Best Leaders Make Everyone Smarter), nonprofit leaders like Ms. Foundation for Women CEO Teresa Younger, business leaders like Linkage executive vice president Susan MacKenty Brady, and visionaries like Black Lives Matter cofounder Patrisse Cullors, attendees will hear a wide variety of perspectives. Topics range from finding your purpose to coaching and mentoring, silencing your inner critic, building the confidence to take on big tasks, proving the triple bottom-line impact of having more women leaders, and even learning leadership lessons from hip-hop stars and a Disney princess!
Click this link to sign up for the free summit: https://womensleadershiponlinesummit.com/?oprid=3327