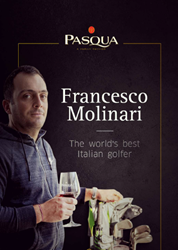 "The Pasqua family may be golf-crazy, but we also know that around one out of every 10 American adults either plays or watches the game. This campaign will help introduce our wines to a whole new segment of the population."
NEW YORK (PRWEB) April 07, 2020
Over 24-million American adults either play golf or watch the game, according to the National Golf Foundation's 2019 Golf Industry Report. To reach them, Veneto's Famiglia Pasqua is preparing to tee-off with a $41K social media ad campaign on Instagram, WeTransfer and Google Display. Starting this spring and extending through the summer, Pasqua's 2020 "Talent Never Tasted Better" campaign, targeted at social media-savvy golf fans in New York, California and Texas, will feature Italian golf superstar Francesco Molinari, winner of the 147th British Open (2018) and part of the victorious European team in the 2018 Ryder Cup. Banner ads will also run in several leading consumer wine publications.
This latest initiative represents a very personal "drive" for the golf-obsessed third generation now in charge at Pasqua. Notes U.S.-based co-owner Alé Pasqua: "The Pasqua family may be golf-crazy, but we also know that around one out of every 10 American adults either plays or watches the game. This campaign will help introduce our wines to a whole new segment of the population."
Alé Pasqua sports a pretty impressive 5 handicap, and while definitely out-swung by Molinari, there was a time in the late 1990s and early 2000s when a young Molinari and then-teenage Alé Pasqua competed in the same junior tournaments. Other members of the Pasqua family also know their way around a green; brother Riccardo plays, and father Umberto was on the governing committee of the Italian PGA.
Pasqua's "Talent Never Tasted Better" ad campaign debuted in 2018 with a series of print ads in several major wine publications presenting three emerging young talents from Italy: chef Diego Rossi, dancer Lidia Caricasole and artist Giorgia Fincato. For their first social media campaign, however, Pasqua has turned pro in partnering with champion golfer Molinari. And after a successful day on the links, it's hoped that golf-loving Americans will celebrate with a glass of Pasqua wine, either at the 19th hole (aka golf club bar) or from the comfort of home.