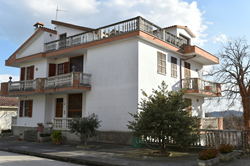 This building is very unique and stylish, and has several potential uses. Its award-winning town is very close to a variety of great Italian locations (shared Gregory).
LOS ANGELES (PRWEB) December 29, 2018
This is a wonderful opportunity to purchase a 4-level building in the gorgeous Marche area of Italy!
It is located in Montefiore Dell' Aso, a well-preserved medieval town, close to San Benedetto del Tronto. This little town is in the area of Ascoli Piceno in the Italian region of Marche.
Montefiore Dell' Aso has been voted as one of Italy's most beautiful towns; it is just a short drive to celebrity-filled Italian locations and from quiet areas, and it is 15 minutes by car from Cupra Marittima, a beautiful town on the Adriatic sea.
There are 4 floors in this building. The bottom level floor has a garage and an unfinished condo with a balcony and a garden. Both the street level and the third level floors have their own condo, comprised of 3 bedrooms and 2 baths covering about 1,700 square feet each, plus balconies. The top/fourth level floor has an unfinished penthouse of about 900 square feet with ocean views and a large terrace of about 700 square feet. It is ready with electrical wires installed in the walls, and has an unfinished bathroom, ready to be completed, with all utilities hookups.
The ceilings in each room are about 10 feet high.
Enjoy watching the videos of this property at vimeo.com/282965036
This beautiful 4-level building was appraised in July 2018 for $ 803,000 (land value is not included in the appraisal).
Selling price, as per appraisal, is $ 803,000.
Listing realtor: Gregory Graham, Real Estate Broker Associate and Mortgage Loan Originator/Officer (calBRE# 01379697; NMLS# 1320744).
For more information, text or call the listing broker, Gregory Graham, at 310-487-5230. Also, please make sure to text him to confirm receipt of the offer. Sellers answer all offers.
The square footage of the interior of the building is about 6,000 square feet; once balconies and terraces are included, the square footage increases to almost 10,000. The building has about 1,600 square feet of living area on each of the first 3 levels; again, the fourth level/penthouse is about 900 square feet and has a terrace spanning about 700 square feet.
The lot size is approximately one third of an acre, over 14,000 square feet, and includes driveways, garden area, lawn, and a tree area.
This multi-unit building can be expanded up to 20 percent.
It is all permitted; buyer to verify the accuracy of the information (see assessor's blueprints in the pdf).
It was built to last in the late 1970s and is made of reinforced concrete and perforated bricks. It has ceramic and marble floors as well as counters.
"This building is very unique and stylish, and has several potential uses. Its award-winning town is very close to a variety of great Italian locations," shared Gregory. It is a 1-hour drive from Ancona airport, and 1 hour and 20 minutes from the city of Pescara. The 2 Rome airports are 2 and a half hours away by car and 3 and a half hours by bus.
The property has an ideal location. Its town is set in the hills among the valleys of the river Aso and of the stream Menocchia. Many restaurants, cafes, and stores are walking distance from it, and they stay open late. The closest supermarket is only 7 minutes away on foot. The town has beautiful churches, convents, and parks.
The building is a 15-minute drive from the famous Coast of the Palms, which is a piece of land surrounded by palms, small maritime pines, and hedges that has several miles of wide sandy beaches.
Among the events that take place in this lovely town are the Carnival, symphonies, concerts, the Palio of the Barrels, and the International Polyphonic Choirs. The award-winning waters of the sea coast of Marche are spectacular. The surrounding territory includes the Appennine mountains. Notable people born in this area of Italy include Giacomo Leopardi, John Baptist Pergolesi, and Gioachino Rossini.
This building could potentially qualify for remodel funds from the European Union to boost tourism in Italy (buyer to verify).
Gregory Graham, Broker Associate at Keller Williams Larchmont in Los Angeles, has distinguished himself in the field of global real estate transactions. He is a Certified International Property Specialist (CIPS). This designation is given to real estate agents who have acquired specialized education, market knowledge, competence, and experience in successfully and effectively listing and selling international real estate properties. Contact Gregory for information on his other Italian real estate listings, which include 2 one-of-a-kind properties in Catania, on the beautiful island of Sicily: an affordable 2-unit building in historical downtown for sale for only $ 199,000, as described at http://bit.ly/CataniaBuilding199K, and a wonderful penthouse in modern downtown, viewable at http://bit.ly/CataniaPenthouse497K.