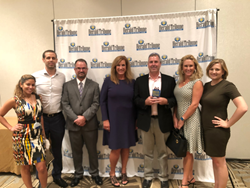 SARASOTA, Fla. (PRWEB) November 13, 2018
ITelagen has been named one of the 2018 Best Places to Work in Sarasota-Manatee. The Herald-Tribune has partnered with Best Companies Group to identify companies that have excelled in creating quality workplaces for employees.
This survey and awards program is designed to identify, recognize and honor the best companies to work for in Sarasota and Manatee counties. The full Best Places to Work in Sarasota-Manatee list will be featured in the November 11 issue of Herald-Tribune and will be available online at http://www.HeraldTribune.com.
To be considered for participation, companies had to fulfill the following eligibility requirements:

Be a publicly or privately held business.
Be a for-profit, not-for-profit business or government entity.
Have a facility in Sarasota County or Manatee County.
Have a minimum of 15 full-time or part-time employees working in Sarasota County and/or Manatee County.
Must be in business a minimum of one year.
ITelagen was recognized for creating a fun and exciting place for employees to come to work every day. Benefits include scooters in the office to ride, music playing all day long and nerf gun wars! ITelagen also ensures that employees are hydrated and feed well – free snacks and drinks are available all day, every day, and ITelagen pays for breakfast and lunch once a week. And that's not all…the office includes a gym, an arcade with media center room, a full-size kitchen/bistro and daycare in the complex. ITelagen keeps all employees, happy, healthy and enjoying coming to work!
"I am incredibly proud of our accomplishments as a team and a company. We have worked very hard over the last few years, andthrough a headquarters move from New Jersey to Florida, to build an environment of high life quality for our employees. I am very excited and proud that we are being named as a 2018 Best Place to Work in Sarasota-Manatee", states CEO of ITelagen, John O'Keefe.
For more information on the Best Places to Work in Sarasota-Manatee program, visit http://www.HTBestPlacesToWork.com.
About ITelagen:
ITelagen is the EHR success company. We deliver integrated services and comprehensive expertise that help providers improve clinical, financial and operational outcomes through EHR and healthcare technology. Our proven approach, based upon over 15 years of experience, actively and securely integrates the EHR with people, data and workflows to increase productivity, reduce risk and enhance patient care. Learn more at http://www.itelagen.com.