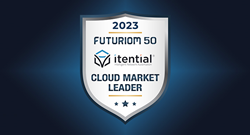 "Itential is proud to be a mainstay on the prestigious Futuriom 50 list as we continue to simplify and accelerate how organizations automate and orchestrate across their traditional enterprise, cloud, and multi-cloud infrastructure."
ATLANTA (PRWEB) January 25, 2023
Itential, the leader in hybrid cloud network automation and orchestration, has once again been named to Futuriom's annual list of the top emerging private companies in the cloud and communications infrastructure market. Itential has maintained a spot on the list since its launch in 2020.
Futuriom, a research and analysis community focused on next-generation cloud technologies, publishes its yearly report to "detail the trends, people, and investors driving what [it] sees as the top companies building the future technology for cloud infrastructure." For the third consecutive year, Itential has been named as one of the market leaders that is advancing innovation in the infrastructure market with its unique approach to integrated automation and orchestration.
The report states: "There is a large cluster of next-generation companies focused on the challenge of bringing an infrastructure as code approach to networking. As hybrid and multi-cloud infrastructure becomes more popular, software development will be more important in bridging the gap between traditional enterprise networking environments and modern cloud-native environments.
"Itential has built a suite of low-code and no-code automation tools to help managers operationalize complex network configuration and orchestration tasks, using an infrastructure as code approach," wrote Scott Raynovich, Founder and Chief Analyst, Futuriom. "Their advanced capabilities around blending data with actionable management of networking is gaining momentum and will be a key part of the NetDevOps movement."
"Cloud infrastructure is driving the future of technology and as organizations look to reign in the sprawling complexity across their hybrid cloud infrastructure, the capability to orchestrate and manage services among these various platforms is critical," said Kristen H. Rachels, Chief Marketing Officer, Itential. "With its annual report, Futuriom tracks those organizations that are delivering true ROI using cloud technology and fueling new efficiencies to reduce long term operating costs. Itential is proud to be a mainstay on the prestigious Futuriom 50 list as we continue to simplify and accelerate how organizations automate and orchestrate across their traditional enterprise, cloud, and multi-cloud infrastructure."
The rapid, agile, and scalable power of Itential enables the world's largest companies to use its automation and orchestration capabilities to deliver services faster, simplify network and infrastructure change management, and maintain security with standardized configuration and compliance across hybrid-cloud networks. To make automation work as intended, orchestration capabilities and flexible integration are key. Itential provides its customers with the tools to simplify and accelerate their journey from manual IT processes to self-service automation, operationalizing infrastructure automation at scale, along with the freedom to integrate with different services, tools and vendors in their infrastructure ecosystem.
To learn more about the 2023 Futuriom 50, download the complimentary full report here. To hear more about the Shift Left Movement and the Rise of NetDevOps, attend a live webinar with Scott Raynovich of Futuriom Research today (January 25, 2023) at 12 PM ET / 9 AM PT, click here to register or listen on-demand.
About Itential
Itential provides powerful network automation and orchestration software to companies worldwide, from Fortune 500 telecommunications and financial service companies, public sector and federal government agencies to enterprises of all sizes. We are committed to building world-class products that accelerate the move toward software-driven networks and next generation, agile network operations. We are exclusively focused on delivering network automation solutions that help our customers realize their vision of digital transformation. Our solutions leverage the latest thinking, open standards, open architectures, partners, and best practices to drive network operations and maximize the impact of automation. To learn more about Itential please visit http://www.itential.com.