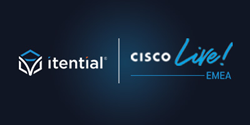 "Cisco Live is the premier event to demonstrate how Itential's low-code approach to automating and orchestrating hybrid cloud networks can enable organizations to simplify and scale how they manage their complex infrastructure."
ATLANTA (PRWEB) January 31, 2023
Itential, the leader in hybrid cloud network infrastructure automation and orchestration, today announced that it will sponsor and exhibit at Cisco Live EMEA 2023 at the RAI in Amsterdam, February 6-10 (booth #C03 in the World of Solutions). During the event, Itential will showcase and demonstrate how its Itential Automation Platform can simplify and automate the deployment, management and configuration processes for enterprise and service provider hybrid and multi-cloud networks, improving efficiency and agility and driving overall business value.
"As organizations accelerate their digital transformations, they're taking advantage of new multi-cloud infrastructures to evolve their networks and leverage the benefits that access to multiple clouds and multiple vendor solutions can provide," said Kristen H. Rachels, Chief Marketing Officer at Itential. "Cisco Live is the premier event to demonstrate how Itential's low-code approach to automating and orchestrating hybrid cloud networks can enable organizations to simplify and scale how they manage their complex infrastructure."
Cisco Live EMEA 2023 attendees are invited to visit the Itential team at booth #C03 in the World of Solutions to see firsthand how Itential helps IT and network teams scale their automation initiatives:

Automate & Orchestrate Across Any Network: From legacy hardware to API-enabled controllers and public cloud network elements, Itential provides seamless orchestration across multi-vendor, multi-domain networks.
Leverage Existing Automation Efforts: Easily leverage and integrate existing Python, Terraform, Ansible, and custom-built scripts into Itential automation workflows.
Enable Anyone to Automate: With Itential's low-code, drag-and-drop canvas, easily build and expand network automation creation and ease of use.
Deliver Rapid Time to Value: Out-of-the-box integrations with any network or IT system and get started fast with Pre-Built Automations for top use cases.
Itential was recently named a Futuriom 50 Leader in Cloud Infrastructure and a representative vendor in Forrester's Infrastructure Automation Landscape report. To learn more about Itential and schedule a meeting with our team at Cisco Live EMEA, click here.
About Itential
Itential provides powerful network automation and orchestration software to companies worldwide, from Fortune 500 telecommunications and financial services companies, public sector and federal government agencies to enterprises of all sizes. We are committed to building world-class products that accelerate the move toward software-driven networks and next generation, agile network operations. We are exclusively focused on delivering network automation solutions that help our customers realize their vision of digital transformation. Our solutions leverage the latest thinking, open standards, open architectures, partners, and best practices to drive network operations and maximize the impact of automation.
To learn more about Itential, visit http://www.itential.com.