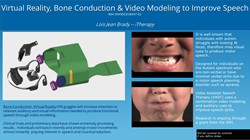 Jake instantly zeroed in on those lips and the words almost magically popped out. Now a month and a half later, he is still enjoying these apps. He has mastered the words and phrases -- Jake's Journey
VALLEJO, Calif. (PRWEB) July 07, 2020
Video-Assisted Speech Therapy (VAST) is exciting technology for non-verbal individuals with autism and motor-planning challenges. The VAST technique provides unprecedented support for spoken language, combining evidence-based best practices, research, and technology to deliver remarkable results for individuals on the autism spectrum.
VAST-Autism is a groundbreaking app-based tool that provides state-of-the-art teaching techniques for individuals with autism and motor-speech disorders such as apraxia. VAST-Autism combines the highly effective concept of video modeling with written words and auditory cues to help individuals acquire relevant words, phrases, and sentences so that they can speak for themselves. For children and individuals with strong visual skills, associating written words with spoken language can be a key that unlocks speech development.
Ongoing research and initial pilot studies have indicated that a wide age range of individuals will focus on and participate in the VAST video activities -- many will almost immediately attempt lip movements or touch their mouths in response to the video models. In one informal study, after a few short weeks, a significant number of participants, who were essentially nonverbal, began word approximations and word attempts more readily.
Speech-language pathologists using VAST have reported that the best and most unexpected therapeutic improvements have been in their clients' ability to generalize skills they have learned while using the VAST system. Interestingly, their clients also began attending to other speakers' oral-motor movements during daily communication and continued learning speech in a traditional naturalistic manner -- by interacting with people in their familiar environments.
The current NIH research project conducted by iTherapy will develop a personalized educational experience for students with ASD by creating a virtual reality-based (VR) VAST program to stimulate engagement and speech production practice. VR offers several benefits as a therapy technique: employing visual learning, overcoming sensory difficulties by reducing distractions, generalizing instructional information to speech-related activities, and providing individualized treatment. As a user moves through the stages of the program, they will be immersed in a proactive environment where they will engross themselves with continuous educational content.
Rather than present the individual with a static image of a letter or a word, the entire sequence of oral movements can be presented sequentially via VAST's VR-modeled segments of the orofacial area -- producing connected speech while using video modeling along with music- and literacy-influenced learning activities. These elements are paired with auditory and visual cues to provide unparalleled support for the development of vocabulary, word combinations, and functional communication.
The research outlined is supported by the National Institute On Deafness And Other Communication Disorders of the National Institutes of Health under Award Number R43DC018447. The content is solely the responsibility of the authors and does not necessarily represent the official views of the National Institutes of Health.