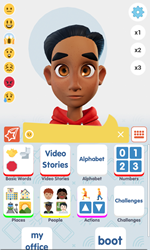 Learn how to talk and express emotions by watching your animated avatar.
SAN FRANCISCO (PRWEB) November 15, 2021
iTherapy, LLC just released an "Unreal" edutainment app for people with autism, funded by Epic Megagrant and powered by Epic's Unreal Engine technology. In collaboration with Elara Systems, iTherapy has created InnerVoice Unreal a comprehensive communication tool that helps children with autism and other communication challenges learn speaking, reading, and writing skills, using their own customized 3D avatars and the latest voice-synthesis technology.
InnerVoice Unreal builds on iTherapy's existing InnerVoice app for iOS, with both apps using video modeling — an evidence-based intervention tool for children with autism. An avatar models talking, typing, and facial expressions, and teaches children with or without autism to recognize the relationships between speech, text, and the world around them.
Thanks to Epic Games' Unreal Engine platform, the new InnerVoice Unreal app for Android allows users to create their own unique 3D character. Kids can now choose from a variety of genders, cultural backgrounds, and looks — a significant addition when helping children identify with and maintain interest in their avatar. Importantly, Epic's technology, Elara's VR technology expertise, and InnerVoice's 3D animation has also provided a whole new level of accuracy when it comes to the avatars' word articulation and variety of micro-expressions when conveying an expanded range of emotions.
As Lois Jean Brady, co-creator or InnerVoice and speech-language pathologist explains, "This precision is crucial, as it means you can watch the avatar closely when it's expressing anger or speaking a phrase you've typed — over and over if you want — in order to learn what that emotion looks like or how your mouth moves while saying the word." The iTherapy team recognizes the need is greater than ever for developing children to have access to this sort of modeling, when so many teachers and speech-language pathologists have to obscure their faces with masks.
Literacy skills are also a huge asset to any child on the autism spectrum, and in a digital age, literacy can grant them access to a new world of communication for the rest of their life. InnerVoice Unreal provides a new literacy section, in which the child's avatar demonstrates how to pronounce a large number of letter sounds (such as short vowels, long vowels, and consonants). Amazon's cloud computing provides the cutting-edge speech-synthesis and procedural "lip syncing" necessary to ensure the sound syncs precisely with the animation, creating an authentic representation of speech.
Although InnerVoice Unreal is powered by sophisticated animation and AI technology, iTherapy has worked hard to ensure the app is simple to use and entertaining for kids of all age groups. Bright colours, bold graphics, numerous features, and endless scope for interaction mean that InnerVoice Unreal is both a communication tool and teacher, capable of keeping children occupied for hours of educational fun.
About iTherapy, LLC: iTherapy, LLC is a San Francisco Bay Area company that develops engaging immersive technology which increases quality of life for individuals with communication challenges such as autism. Since 2011, iTherapy has provided thousands of individuals with evidence-based solutions to everyday communication challenges, both through its innovative software and its medical speech therapy clinic, where its speech-language pathologists provide services to a variety of clients. iTherapy's InnerVoice app has won multiple awards, including the Mensa Intellectual Benefits to Society Award.
About Epic Unreal Engine: The world's most advanced real-time 3D creation tool for photoreal visuals and immersive experiences. For more than two decades, Unreal Engine has evolved to keep creators on the cutting edge of real-time 3D technology.
About Elara Systems: Based in Northern California, Elara is a strategic creative agency that develops digital content for medical and industrial markets across the globe, using virtual reality, mixed and augmented reality, 3D animation, and video.