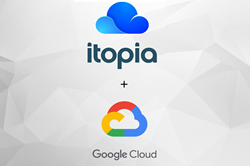 MIAMI (PRWEB) July 23, 2018
IT and cloud software automation provider itopia today introduced new hybrid cloud capabilities with the extension of on-premises Active Directory (AD) environments into Google Cloud Platform (GCP)-hosted AD. The company also announced new server-only deployment automation features.
itopia, a leader in virtual desktop automation for Google Cloud, has released new features in Cloud Automation Stack (CAS) designed to facilitate hybrid cloud deployments. The new CAS capabilities enable IT departments to easily extend RDS-based and non-RDS virtual desktop deployments that are dependent on on-premises AD domains into GCP, and across the globe. itopia CAS is now also capable of automating and orchestrating the management of enterprise-scale, server-only environments on GCP through a single-pane-of-glass portal.
The new "Cloud AD" feature enables businesses to deploy and manage enterprise-grade desktop and infrastructure environments on GCP in multiple geographic regions. This will ensure that, regardless of conditions or events, domains remain highly available and accessible in GCP's highly redundant data centers. Through a single-click deployment, IT administrators can now:

Launch automated Windows instances in different GCP sites, regions and zones;
Create a VPN from the primary and secondary sites to GCP; and
Join cloud instances to an existing on-premises AD domain and deploy highly available GCP-based domain controllers.
Additionally, itopia's end-to-end automation, orchestration and management platform has been extended to server-only environments. Enterprise IT administrators can now leverage the existing capabilities in CAS to deploy and manage hundreds – even thousands – of servers in hybrid on-premises and GCP-based infrastructure deployments, including:

Server Uptime Scheduling: This allows IT administrators to automate the time when servers spin up or down according to business demand, eliminating the costs of unused and idle infrastructure and VMs while potentially saving up to 50 percent on cloud costs.
Snapshot Automation: itopia CAS leverages Google Cloud Automatic Snapshot technology to automate Windows server backups and data recovery. Scheduling automated snapshots not only saves time and expense in the event of downtime, but ensures that data is always quickly retrievable from Google Cloud's redundant data centers.
Auto-Scaling: Automatically increase or decrease server count or server resources based upon workload demand and user count. As users are added or removed, itopia CAS automatically adjusts infrastructure resources to match user and workload demand.
"These new features facilitate global, hybrid enterprise deployments with CAS's single-click automation for the full-IT stack, eliminating the need for any manual configuration on GCP. We built these features based on invaluable, real-world feedback from our joint customers with Google Cloud," said itopia CTO and Co-Founder Ubaldo Don.
"itopia CAS is really shaping up to be the 'automation of all things IT' on GCP," adds itopia CEO and Co-Founder Jonathan Lieberman. "While they're an excellent example, cloud desktops represent only one use case for CAS. These new capabilities are only the tip of the iceberg in terms of what's in the pipeline."
About itopia
itopia's Cloud Automation Stack (CAS) technology is the industry's leading enterprise IT automation and orchestration solution purpose-built for Google Cloud Platform (GCP) environments. CAS gives enterprise IT departments and service providers the ability to automate all things IT on GCP, including: virtual desktops and applications, graphic workstations, hybrid Active Directory (AD) environments, AD-based disaster recovery and Windows and Linux virtual machines—all through a single pane of glass management portal. For more information on itopia's solutions please visit: http://www.itopia.com.
Press contact: Karin Kelley, kkelley(at)itopia(dot)com