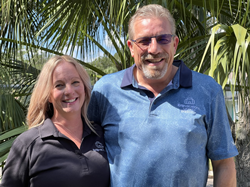 "We love deciding how we can best help guests and provide rental homeowners with a better property management experience." - Nicole Wahl
NASHVILLE, Tenn. (PRWEB) January 05, 2023
iTrip® Bradenton-Sarasota is now owned by Todd and Nicole Wahl, who have experience in property management and customer relations. The couple chose to take over the vacation rental management company in Bradenton and Sarasota because it provided the right business option for their goals and allows them to work together.
The short-term rental property management company serves homeowners and guests in Palmetto, Bradenton, Lakewood Ranch and downtown Sarasota. The full-service program increases net rental income and five-star guest reviews, while providing worldwide marketing, free light maintenance, professional cleaning, and automatic-response systems.
"Our favorite thing about this business is helping set the stage for guests to come and create lasting memories," said Nicole Wahl, iTrip Bradenton-Sarasota co-owner. "We love deciding how we can best do that and provide rental homeowners with a better property management experience."
Todd has more than 30 years of property management experience in multi-family residential rentals. His experience paired with a track record for revolutionizing business processes has led to maximized efficiency, reduced costs, and business growth. In his previous role, he managed acquisition and divestiture processes to enter new markets, introduced technical automated solutions, and generated sales revenue, profits, and market share.
Nicole has a background in customer care and client relations in real estate title services. She has helped forge relationships between companies and their clients while handling organizational and administrative processes. These skills provide the ideal foundation for ensuring visiting guests receive personalized service and rental homeowners enjoy less stress from their rental investments.
"Our intent was to find a business that we were both passionate about, would allow us each to utilize our strengths while also getting to spend time together," said Nicole Wahl. "We've always known we make a great team. Life is short, and most of us need to work, so we're excited to grow this business together."
To learn more about the short-term rental property management program, contact iTrip Bradenton-Sarasota at 941-900-4331 (local).
About iTrip®
iTrip is a leader in short-term rental property management with more than 3,800 properties under management in the U.S. and Canada. iTrip provides full-service rental property management programs to more than 100 franchise-owned destinations in North America and has been named a Vrbo Elite Partner in Software for five consecutive years.