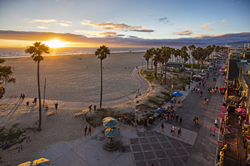 "We look forward to sharing with our guests and homeowners the perks of having the property professionally managed while creating timeless memories. Malibu makes everyone's California dreams come true."
BRENTWOOD, Tenn. (PRWEB) February 11, 2020
iTrip Vacations has expanded their property management program in California. Vacation property owners and guests in Malibu now benefit from world-class property management and customer service. iTrip Vacations Malibu – owned and managed by Shadi Hosseini – has launched as the newest iTrip Vacations destination.
The short-term property management company serves rental owners and guests in the following areas: Malibu, Santa Monica, Venice Beach, Brentwood, Marina Del Ray and Pacific Palisades. The full-service program focuses on increasing net rental income and guest satisfaction, while providing international marketing, free light maintenance, 24/7 property care and automatic-response systems.
"We are excited to bring iTrip Vacations Malibu to California," says Shadi Hosseini, the franchise owner. "We look forward to sharing with our guests and homeowners the perks of having the property professionally managed while creating timeless memories. Malibu makes everyone's California dreams come true."
The California addition is part of a growing number of destinations managed by iTrip Vacations, the largest franchise brand serving the short-term property management industry in North America.
"Additionally, our quarterly performance numbers show iTrip Vacations leading the short-term property management industry in terms of measurable metrics," says Steve Presley, iTrip Vacations co-founder. "In 2019, we also earned Elite Partner status with Vrbo for the second consecutive year."
Measuring 30 miles along the Pacific Ocean, Malibu features sandy shores and places to explore. The area has award-winning beaches, art, high-end shopping, entertainment and famous piers. In addition, guests enjoy easy proximity to Santa Monica, Venice and Los Angeles.
To learn more about the full-service property management program, contact iTrip Vacations Malibu at 310-846-1661 (local).
About iTrip Vacations
iTrip Vacations is a national leader in short-term rental management. The company provides full-service property management programs to more than 80 destinations in North America, while enhancing experiences through affordable luxury accommodations and custom programs.