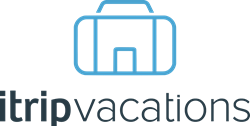 The Elite Partner designation is awarded to only the highest-performing vacation rental software companies.
BRENTWOOD, Tenn. (PRWEB) August 01, 2018
iTrip Vacations, a leader in vacation rental property management, today announced it has become a HomeAway® Elite Partner, the highest designation available for vacation rental software companies that integrate with HomeAway. HomeAway is a world leader in the vacation rental industry and is the site to book beach houses, cabins and condos with more than 2 million places to stay in 190 countries.
"We are excited to have HomeAway recognize our software platform with the Elite Partner Status," says Todd Morrison, iTrip Vacations co-founder. "We value our ongoing 9-year relationship with HomeAway and thank them for their continued support."
The Elite Partner designation is awarded to only the highest-performing vacation rental software companies. HomeAway considers many factors when evaluating software providers, including how current their integration version is, the technical performance and reliability of their integration, and traveler demand.
"Our Elite Partners are leaders in the vacation rental software industry, demonstrated by their foresight, dependability and clear understanding of customer needs," said Kevin Locraft, vice president of global partner success strategy and operations at HomeAway. "Property managers who work with Elite Partners have shown great success on HomeAway sites, thanks to their seamless integration and access to world-class tools."
As a part of its designation, iTrip Vacations may receive early access to new HomeAway tools and features for integrated partners. The company also works directly with HomeAway's leadership team, providing feedback and helping shape future HomeAway products for integrated partners.
To learn more about iTrip Vacations, please contact iTrip Vacations at list@itrip.net or itrip.net/get-listed.
About iTrip Vacations
iTrip Vacations, based in Nashville, Tennessee, is a national leader in vacation rental management. iTrip provides full-service property management programs to more than 60 destinations in North America, while enhancing experiences through affordable luxury accommodations and custom programs. For more information about iTrip vacations, please visit https://www.itrip.net/.
About HomeAway
HomeAway, based in Austin, Texas, is a leading online marketplace for the vacation rental industry with sites representing more than two million unique places to stay in 190 countries, and is a part of the Expedia Group family of brands. For more information about HomeAway, please visit http://www.homeaway.com.
© 2018 HomeAway. All rights reserved. HomeAway and the HomeAway logo are trademarks of HomeAway. All other trademarks are property of their respective owners.