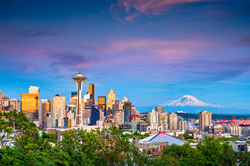 "iTrip Vacations gave us the opportunity to share our love of Seattle while our guests enjoy five-star accommodations with boutique-level service. Additionally, our homeowners maximize their return with our advanced digital marketing platform. It's a win-win."
BRENTWOOD, Tenn. (PRWEB) February 18, 2020
iTrip Vacations has expanded their property management program in Washington. Vacation property owners and guests in Seattle now benefit from world-class property management and customer service. iTrip Vacations Seattle – owned and managed by Karen and Ken Hunt – has launched as the newest iTrip Vacations destination.
The short-term property management company serves rental owners and guests in the entire Seattle region, from Snoqualmie Ridge to Bainbridge Island and Lynnwood to Tukwilla. The full-service program focuses on increasing net rental income and guest satisfaction, while providing international marketing, free light maintenance, 24/7 property care, and automatic-response systems.
"iTrip Vacations gave us the opportunity to share our love of Seattle while our guests enjoy five-star accommodations with boutique-level service," says Karen Hunt, iTrip Vacations Seattle co-owner. "Additionally, our homeowners maximize their return with our advanced digital marketing platform. It's a win-win."
The Washington addition is part of a growing number of destinations managed by iTrip Vacations, the largest franchise brand serving the short-term property management industry in North America.
"Our performance numbers show iTrip Vacations leading the short-term property management industry in terms of measurable metrics," says Steve Presley, iTrip Vacations co-founder. "In 2019, we also earned Elite Partner status with Vrbo for the second consecutive year."
Seattle, Washington, ranks among the best destinations in the U.S. due to its waterfront location, famous music scene, award-winning chefs and family-friendly activities. The city offers a mix of modern attractions paired with outdoor escapes and stunning natural scenery.
To learn more about the full-service property management program, contact iTrip Vacations Seattle at 206-805-8398 (local).
About iTrip Vacations
iTrip Vacations is a national leader in vacation rental management. iTrip provides full-service property management programs to more than 75 destinations in North America, while enhancing experiences through affordable luxury accommodations and custom programs.