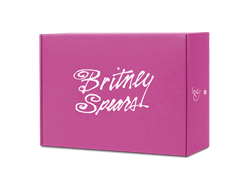 LOS ANGELES (PRWEB) October 23, 2020
Since dominating the airwaves in 1999, best-selling artist Britney Spears has created a decades-long legacy of pop hits that continue to inspire and excite fans around the world. To celebrate Britney's reign as the "Queen of Pop," Loot Crate and Britney Spears have partnered together to bring fans the Britney Spears Limited Edition Series. This four-crate series celebrates Britney's biggest chart-topping hits including "Oops!... I Did It Again," "Toxic," and "Circus."
The first limited edition series crate is an homage to Britney's certified 14x platinum debut "…Baby One More Time." This kickoff to Britney's storied musical career is filled with exclusive merchandise and collectibles you won't find anywhere else, including a premium fashion Tie-Dye Hoodie, Vinyl Platinum Record Notebook, Pom Pom Pen, and an exclusive Stemless Stainless Steel Tumbler, the first in a series. Purchase all four crates to have the entire stainless steel tumbler set and share the experience with friends!
In addition to the Loot Crate Britney Spears Limited Edition Series, NECA is releasing a limited edition 12" Britney Spears collector's fashion doll. Anyone who purchases a crate is eligible to pre-order the limited edition doll from NECA for $39.99.
The first crate of the Britney Spears Limited Edition Series ships December 2020 and contains exclusive items available only to Loot Crate buyers. Each quarterly themed crate costs $59.99 plus shipping and handling and will be available to order starting October 23, 2020. Get lost in the game and order yours today. This limited-run series is one-of-a-kind, so give us a sign and grab all four crates before they're gone!
Subscribe to the Britney Spears Limited Edition Series: http://loot.cr/britney
About Britney Spears
BRITNEY SPEARS is one of the most celebrated entertainers in the history of pop with nearly 150 million records sold worldwide, multiple platinum records, and countless awards and accolades. She has sold more than 70 million albums and hit singles in the U.S. alone. Spears quickly rose to stardom and became a household name as a teenager when she released her first single "…Baby One More Time," a Billboard Hot 100 No. 1 smash and international hit that broke sales records with more than 20 million copies sold worldwide and is currently 14x platinum in the U.S.
Her musical career boasts tremendous awards and accolades, including seven Billboard Music Awards, the Billboard's Millennium Award, which recognizes outstanding career achievements and influence in the music industry, as well as an American Music Award and the 2011 MTV Video Vanguard Award. To date, Spears has earned a total of six No. 1-debuting albums on the Billboard 200 chart and 34 Top 40 hit singles on the Billboard Hot 100 – four of which went to No. 1. Spears has been nominated for seven GRAMMY Awards and won for Best Dance Recording in 2005.
Britney's music has not only touched the lives of millions, but she also has used her global platform and voice to support the LGBTQ community on a variety of platforms. As a longtime ally of the community, she most recently received GLAAD's 2018 Vanguard Award, presented to media professionals who have made a significant difference in promoting equality and acceptance of LGBTQ people.
About Epic Rights
Epic Rights is an industry-leading branding, merchandising and artist's services company representing a diverse roster of iconic music artists such as 21 Savage, KISS, AC/DC, Def Leppard, Katy Perry, Britney Spears, Bob Dylan, the estates of John Lennon, David Bowie and many more. Epic Rights offers a broad range of services, including retail distribution, tour merchandising, global e-commerce, VIP/fan experiences, and fan engagement opportunities. Epic Rights is headquartered in Santa Monica, California. For more information, visit http://www.epicrights.com/
About the Loot Company
The Loot Company™ is a leading subscription eCommerce service for fans of pop culture, video games, anime, and more. The Loot Company collaborates with global entertainment properties to help audiences discover their favorite products. With over 20 premium consumer product lines in themed and limited-edition crates, as well as crowdfunded Loot Launcher exclusives, fandom is delivered directly to subscribers' doorsteps. Loot Crate was acquired by the Loot Company in 2019 and is supported by the heart of a diverse subscriber community affectionately known as Looters. The Loot Company is a wholly-owned subsidiary of Money Chest LLC, with sister brands including NECA, Kidrobot and WizKids. To sign up for a Loot Company subscription, visit http://www.lootcrate.com
Facebook:facebook.com/lootcrate/
Twitter:@lootcrate
Instagram:@lootcrate
For more information:
George Roush PR/Editorial Manager
george.roush@lootcrate.com