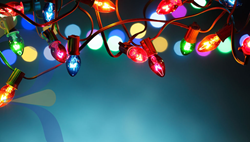 The holidays are an incredibly special time at Grossmont Center. We truly enjoy being an integral part of so many peoples' holiday traditions.
LA MESA, Calif. (PRWEB) November 14, 2019
The days will be merry and bright at Grossmont Center this 2019 holiday season, with an array of fun, festive, and free community events. The lineup includes beloved La Mesa traditions as well as newer events that are sure to become holiday favorites.
One of those newer events is the Vegan Holiday Fair, Food & Toy Drive, which is co-hosted by Vegan in San Diego, the Center's partner in the monthly First Friday Night Market. Attendees at the holiday fair can sample delicious plant-based food and beverages from top local purveyors. Donations of toys and pet supplies will also be accepted for local nonprofits. (1 to 5 p.m. November 23, 2019)
Grossmont Center customers have another opportunity to spread the holiday spirit of giving to people in need during San Diego's Biggest Toy Drive. AJ and Sara from Sunny 98.1-FM are leading a volunteer team in gathering as many new, unused toys as possible for Rady's Children's Hospital. To make it even easier for people to donate, the Walmart at Grossmont Center has an aisle stocked with toys specially approved for the toy drive. (6 p.m. November 28, 2019, to 7 p.m. December 8, 2019)
One of the most popular annual events in La Mesa is Light Up the Holidays. The centerpiece of this celebration is the traditional lighting of Grossmont Center's majestic tree, which will shine brightly for Center visitors throughout the 2019 holidays. (4 to 6 p.m. November 29, 2019)
Light Up the Holidays also heralds the arrival of Santa. He takes up residence at Santa's Hut for the holidays, available to pose for photos with children and hear their gift wishes. It is an experience that creates wonderful memories cherished by families forever. (11 a.m. to 6 p.m. daily November 29, 2019, to December 23, 2019)
Giving a unique and special gift is another way to create lasting holiday memories, and one of the best gifts you can give is a forever friend. Grossmont Center guests can find the dog that is perfect for their home at the 2019 Santa Paws Pet Adoption. Presented in partnership with the San Diego Animal Support Foundation, this event brings together animals from dozens of rescue agencies and shelters in a fun and relaxed atmosphere. (11 a.m. to 3 p.m. December 7, 2019)
Finally, savor the warmth and joy of the season at HolidayFest. This family-friendly party features holiday characters, a bounce house, face painting, holiday crafts for kids, and much more. This year, Grossmont Center is partnering with San Diego Made, a community of local artists, makers, and craftsmen, to curate a list of more than 40 of the city's best local makers. (Noon to 3 p.m. December 14-15, 2019, and December 21-22, 2019)
"The holidays are an incredibly special time at Grossmont Center," says Trevor Moore, the Center's director of public relations and events. "Customers can shop anywhere for holiday gifts, but they choose to come to Grossmont Center for the jubilant and joyful atmosphere as well as our many terrific stores. We offer these holiday events as a thank you to customers who shop here year-round, and it is so gratifying to see how these celebrations have been embraced by the community. We truly enjoy being an integral part of so many peoples' holiday traditions."
To learn more about Grossmont Center, visit http://www.grossmontcenter.com.
About Grossmont Center
Grossmont Center is an outdoor shopping center in San Diego, located at 5500 Grossmont Center Drive, La Mesa, CA 91942. Grossmont Center is more than just a mall. It's an experience. With its outdoor setting, local, and national retail partners, restaurants, and year-round community events, Grossmont Center is where friendships are made, family bonds are strengthened, and memories are created. The Center is home to more than 100 unique stores, half of which are locally owned, 20 restaurants and a movie theater. Grossmont Center occupies 1 million square feet and is sure to have something in store for everyone! For more information, including hours of operation, visit http://www.grossmontcenter.com.