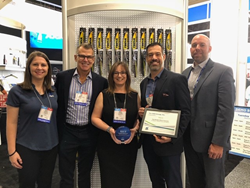 In the past 12 months, we experienced over a 30 percent growth in dollars in the premium beam segment.
LAS VEGAS (PRWEB) November 14, 2019
ITW Global Brands received The NPD Group's Aftermarket Performance Award for Rain-X's top market share increase in the Maintenance & Repair category. The inaugural awards were shared with the winners at the Automotive Aftermarket Products Expo (AAPEX) on Tuesday, November 5.
The performance awards were given to the manufacturers with the highest increase in market share and fastest turning brand per item in the U.S., according to NPD's Retail Tracking Service, and highest increase in online market share in the U.S., according to NPD's Checkout E-Commerce Tracking.
"Rain-X is thrilled to be honored by The NPD Group for top market share increase in the Maintenance and Repair category," said Vince Cipresso, Vice President and General Manager of ITW's Car Care Division. "In the past 12 months, we experienced over a 30 percent growth in dollars in the premium beam segment. Receiving this award further validates Rain-X's standing as a driver of innovation and a leader in the automotive aftermarket."
"Fast-paced change is the soundtrack of today's retail scene, and it's resonating in a multitude of ways within our automotive aftermarket community. We are happy to recognize successes and achievements in today's increasingly competitive environment," said Steve Flavin, President, Automotive Aftermarket practice, The NPD Group. "Congratulations to all the winners – we wish you continued success heading into 2020, and beyond."
Determined by NPD's Retail Tracking Service for the Automotive Aftermarket which collects and reviews sales data from a panel of automotive specialty and mass retailers, this award compared brands with more than $25 million in sales over a 52-week period ending on August 3, 2019.
About ITW Global Brands
ITW Global Brands, headquartered in Houston, specializes in servicing the automotive aftermarket, selling car care products under the Black Magic®, Blue Coral®, Fast Orange®, Fix-A-Flat®, Genuine Innovations®, Gumout®, No Touch®, Permatex®, Rain-X®, Slime®, and Spray Nine® brands. These brands compete in the wiper blade, engine repair, hand cleaner, appearance, cleaners & degreasers, tire repair and performance products segments of the automotive aftermarket. Many of our brands are #1 in their respective categories.
ITW Global Brands products are sold in do-it-yourself retailers like Walmart, AutoZone, Advance Auto Parts, Pep Boys, O'Reilly Auto Parts, Target, Dollar General, Family Dollar, The Home Depot, NAPA Auto Parts and Amazon. ITW Global Brands is most admired for the strong heritage of its brands, continuous product innovation and advertising that are unmatched in the industry. To learn more about ITW Global Brands, visit http://www.itwgb.com.
About The NPD Group, Inc.
NPD offers data, industry expertise, and prescriptive analytics to help our clients grow their businesses in a changing world. Over 2000 companies worldwide rely on us to help them measure, predict, and improve performance across all channels, including brick-and-mortar and e-commerce. We have offices in 27 cities worldwide, with operations spanning the Americas, Europe, and APAC. Practice areas include apparel, appliances, automotive, beauty, books, B2B technology, consumer technology, e-commerce, fashion accessories, food consumption, foodservice, footwear, home, juvenile products, media entertainment, mobile, office supplies, retail, sports, toys, travel retail, video games, and watches / jewelry. For more information, visit npd.com. Follow us on Twitter: @npdgroup.