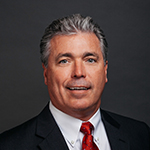 HAUPPAUGE, N.Y. (PRWEB) December 13, 2018
IVCi, a global leader in innovative collaboration solutions, consultation, and services, announced today that Jim Burke will join IVCi in a newly formed position as Chief Revenue Officer, reporting to CEO Bob Swing and serving on IVCi's executive team.
"IVCi has undergone a considerable expansion effort in 2018, and we're continuing on that accelerated course by bringing Jim on as our new CRO," said Bob Swing, IVCi's CEO. "He has a proven portfolio in building strategies for integration and alignment across sales, marketing and customer service organizations, displaying a razor-sharp instinct for advancement opportunities. I'm extraordinarily confident in his ability to reinforce and amplify the growth we've already achieved and progress us to a new level of enterprising success."
Mr. Burke comes to IVCi with 30 years of experience in the AV/VC industry. In the early stages of his career with HB Communications, Mr. Burke directed key operational functions within the sales, marketing, operations, human resources and client relations organizations as the Director of New Media Division. His cross-functional influence positioned the start-up media branch to claim $13 million in annual sales. Following this role, Mr. Burke focused his sights on the sales organization as the Vice President of Sales – New England. His professional oversight of the 13-member sales team led the company to achieve a sales revenue growth of 40%.
Following this success, he most recently served as the company's Executive Vice President of Sales. In this role, he increased annual sales revenue up to $115 million in under a year by developing effective revenue strategies based on market, industry and economic trends. He led a team of thirty-eight sales professionals to execute these strategies, establishing goals, metrics and analytical reporting in tandem.
"IVCi has and will continue to have a tremendous impact on the industry. I'm looking forward to contributing my experience to their rapid expansion and working with an incredibly talented team," said Mr. Burke. "IVCi has a relentless focus on delighting customers, and I plan on bringing that same intention to my work with the team as we improve the efficiency and reach of all revenue channels."
Mr. Burke graduated with a bachelor's degree from Southern Connecticut State University.
About IVCi
IVCi is a global technology leader for Collaborative Meeting Spaces, Unified Communications, Video Conferencing, Cloud based services and industry leading back-end Managed Services, all deployed over a managed network. IVCi partners with their customers to set a collaboration strategy that includes identifying, deploying and managing the ideal technology mix to make video pervasive across enterprise-level companies. In addition, IVCi's platforms are designed for ambitious ROI models that support and justify investments.