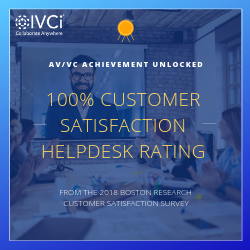 HAUPPAUGE, N.Y. (PRWEB) January 15, 2019
IVCi, a global leader in innovative collaboration solutions, consultation and services, announced the achievement of a 100% Customer Satisfaction Helpdesk Rating for 2018. Market research and consulting firm Boston Research Group conducted the quantitative customer service survey. A 100% rating is the highest acquirable achievement and comes in the wake of the company's considerable 2018 expansion efforts.
The survey's focus on the post-sales customer experience spotlights the success of IVCi's attentive, partner-themed operational model. Over the last decade, IVCi has continuously received industry-leading ratings in the survey, but 2018's 100% rating is a culmination of their agility to meet and support their customer's adoption and utilization needs and answer market demands. It additionally confirms that the company's investment in 2018's rapid growth plan is working.
"We are proud to have received a 100% customer satisfaction rating", said Robert Swing, CEO. "Customer satisfaction has always been the number one priority for our service departments, and this rating recognizes the incredible amount of effort our team puts in every day. Our customer service standards are extremely high and will continue to advance as we move to expand our market share in 2019."
Throughout their 20+ years of industry presence, IVCi's customer satisfaction ratings have been exceptionally high in all categories, including pre-sales, implementation, contracts and billing; but the dedication to operational excellence through customer support represents the lion's share of positive feedback. The company's operational model requires that teams work together to meet the unique needs of each customer in all phases of their AV/VC environment, most notably within their adoption and utilization service offering. The teams are held to the highest industry standard of providing customers with a seamless partnership experience throughout.
As IVCi sets out on 2019's market expansion efforts, they continue to bolster their operations model with staff that boasts industry expertise and an allegiance to the rules of that model. The company's dedication to the customer experience serves them well, as its the primary differentiator that separates them from other top integrators in the space.
About IVCi
IVCi is a global technology leader for Collaborative Meeting Spaces, Unified Communications, Video Conferencing, Cloud based services and industry leading back-end Managed Services, all deployed over a managed network. IVCi partners with their customers to set a collaboration strategy that includes identifying, deploying and managing the ideal technology mix to make video pervasive across enterprise-level companies. In addition, IVCi's platforms are designed for ambitious ROI models that support and justify investments.