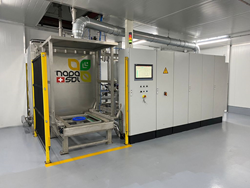 With this investment in the Napasol pasteurizer, expansion in processing capabilities, and upgrades in factory equipment, Ivory Macadamias can claim to provide the highest standard of food safety to our customers
Mpumalanga, South Africa (PRWEB) April 23, 2021
With the Napasol pasteurization technology Ivory Macadamias can boast a guaranteed performance in macadamia safety and quality. Through continuous growth and developing new and efficient processing methods, Ivory Macadamias has established a reputation domestically and internationally for the quality of its products. This Napasol pasteurization investment underscores the company's stake in continuing improvement in food safety.
Ivory Macadamias is part of a family business founded by Italian immigrants in 1953. The family planted their first macadamias in 1998. "With this investment in the Napasol pasteurizer, expansion in processing capabilities, and upgrades in factory equipment, Ivory Macadamias can claim to provide the highest standard of food safety to our customers" says Giovanna Secco, MD of Ivory Macadamias Pty Ltd.
Ivory Macadamias is part of Global Macadamia Pty Ltd, South Africa, and the Marquis Marketing Group Ltd, Australia. Marquis is the world's largest processor and marketer of macadamias contributing 16% of the global nut-in-shell and over 20% of global kernel supply from Australia and South Africa. The two Marquis processing facilities in Australia are equipped with Napasol pasteurizers while Ivory Macadamias is the first South African partner with a Napasol pasteurization line. With the upcoming startup of the Global Macadamia Napasol pasteurization plant and that of Kenya partner Afrimac later this year, Marquis will be able to supply pasteurized macadamias to manufacturing, wholesale, and retail customers around the world including USA, Europe, Asia and Australia.
Napasol AG, Zug, Switzerland, sells Pasteurization equipment worldwide for nuts, seeds, herbs, spices and other low moisture food applications. Napasol pasteurizers for macadamias are operational in Australia, South Africa, the USA and Europe, while worldwide Napasol units are also validated for Almonds, Walnuts, Pistachios, Hazelnuts, Pecans, Brazil nuts, and Pine nuts. Dieter Kundig Napasol AG CEO says "Ivory Macadamia operates an exceptional facility where the Napasol pasteurizer will add the microbiological safety guarantee required by the market". Napasol is the market leader in tree nut pasteurization delivering the preventive control requirements of above 5 log Salmonella reduction performance while preserving the flavor, color, texture, and improving the shelf life of raw nuts.