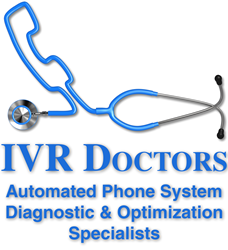 CHARLESTON, S.C. and PORTLAND, Ore. (PRWEB) February 01, 2019
FOR IMMEDIATE RELEASE
IVR Doctors Celebrate 10-Year Anniversary
Automated phone system usability specialists start second decade.
IVR Doctors, one of the leading usability and human factors consulting firms for evaluating and improving customer experience and system performance in automated phone systems, celebrates its first decade in business in 2019. With clients throughout the U.S. and Canada, the IVR—Interactive Voice Response—Doctors' team has assisted a wide range of companies in making the customer experience and service a top priority for callers to their automated telephone systems, reducing operating costs and customer frustration.
"Given the typical track record of start-up businesses, this anniversary marks a significant milestone," says Mark Camack, Principal and IVR Doctors co-founder. "We're so pleased and grateful for the recognition we've received for understanding that the user experience is an ongoing, essential component in evaluating how technology works for real people in the real world."
"Another key reason for our success, as we're often told by clients, is that we are 'technology agnostic,' focused only a better customer experience, not selling hardware or software which otherwise might bias our consulting," says Peter Brandt, IVR Doctors' Principal and co-founder.
IVR Doctors' clients include large and small energy utilities, and companies in financial services and healthcare segments, including the Berkshire Hathaway Energy utilities (MidAmerican Energy, NV Energy, PacifiCorp), Hydro One (Canada), Sempra Energy (San Diego Gas & Electric and SoCalGas), Southern Company's (Alabama Power, Georgia Power and Mississippi Power); BMO Harris Bank; Navy Federal Credit Union; CVS Health; and many others.
Read more about IVR Doctors here.
Contact IVR Doctors at http://ivrdoctors.com.
IVR Doctors is a (DBA) collaboration of Brandt Marketing Group, based in Charleston, South Carolina, and Camack Consulting, Inc., in Portland, Oregon.
##