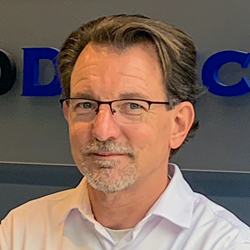 Mark's financial acumen and his proven ability to drive positive change makes him an excellent addition to our leadership team and ideal fit with our clients. - John Ashe, CEO of IWCO Direct
CHANHASSEN, Minn. (PRWEB) October 12, 2021
IWCO Direct, a leading provider of data-driven performance marketing solutions, announced it has named Mark Pritchard to serve as its Chief Financial Officer. Pritchard has extensive experience driving change, efficiency, and continuous improvement across an array of industries including retail, business services, technology, and direct marketing. He will lead IWCO Direct's Finance, Supply Chain Management, and IT teams and report to CEO John Ashe.
Pritchard is an energetic, decisive finance executive with more than 20 years of leadership experience. His diverse background in many industries allows him to quickly understand the challenges and opportunities facing IWCO Direct's clients. He most recently served as CFO for United Safety & Survivability Corporation, a global leader in the design and engineering of world-class safety and survivability systems. He also served as CFO of Data-Mail, a full-service direct mail production firm, as well as serving as CFO and VP of Operations at XSE Group Inc., and CFO of Oxley Group Limited.
Pritchard is a graduate of the University of Birmingham, United Kingdom, with a Bachelor of Science degree in Physics. He holds credentials as a chartered accountant by the Institute of Chartered Accountants in England and Wales (ICAEW).
"Mark's financial acumen and his proven ability to drive positive change makes him an excellent addition to our leadership team and ideal fit with our clients," stated John Ashe, CEO of IWCO Direct. "His industry expertise and track record of delivering results in all the positions he has held will be a true asset as we continue to transform our business model, creating operating efficiencies and strengthening our financial performance."
The addition of Pritchard continues to build out IWCO Direct's leadership team, which has recently added key talent including Dave Ciocchi as Senior Vice President of Sales and Customer Solutions, Reid Holmes as Executive Creative Director, and Ken McDonald as Vice President Supply Chain. The company is currently implementing a historic $50 million investment to transform IWCO Direct's technology, digital marketing capabilities, and production platform to meet the needs of its marketing clients.
About IWCO Direct
As a leading provider of data-driven direct marketing solutions, IWCO Direct's Power your Marketing™ approach drives response across all marketing channels to create new and more loyal customers. The company's full range of services includes strategy, creative, and execution for omnichannel marketing campaigns, along with one of the industry's most sophisticated postal logistics strategies for direct mail. Through Mail-Gard®, IWCO Direct offers business continuity and disaster recovery services to protect against unexpected business interruptions, along with providing print and mail outsourcing services. The company is ISO/IEC 27001 Information Security Management System (ISMS) certified through BSI, reflecting its commitment to data security. Stay current on direct marketing trends, industry news, postal regulations, and more by subscribing to IWCO Direct's SpeakingDIRECT blog and following the company on LinkedIn.
IWCO Direct is a wholly owned subsidiary of Steel Connect, Inc., a publicly traded diversified holding company (Nasdaq Global Select Market symbol "STCN"); Steel Connect, Inc. has two wholly owned subsidiaries, IWCO Direct and ModusLink Corporation. For more information, please visit About Steel Connect, Inc.