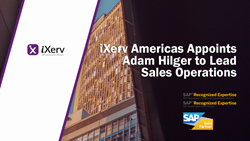 Hilger has a proven track of 14 years of career dedicated to client's Digital Transformation process through impactful Intelligent Enterprise Technology that reaches all lines of business.
MIAMI (PRWEB) October 12, 2020
iXerv Americas, a fast-growing global provider of implementation and strategic services and products for SAP SuccessFactors, announced today that it has appointed Adam Hilger as Chief Revenue Officer, Americas. In this role, Mr. Hilger will be responsible for expanding iXerv's sales operations across the Americas and Caribbean.
Adam Hilger joins iXerv Americas after successful spells at SAP SuccessFactors and other SAP SuccessFactors services providers. Adam also operates a Non-Profit organization Desk 4 Kids, which provides custom desks to West Michigan families in need for their children that are virtually learning this school year.
"We are delighted to have Adam on board. His track record, experience, and strategic perspectives with HR technology – and particularly the SAP SuccessFactors Human Experience Management suite – brings tremendous value to iXerv and its customers. We are looking forward to continuing our rapid growth across the Americas and Caribbean with Adam," said Luke Marson, President, iXerv Americas."
"I am honored to join iXerv Americas as the Chief Revenue Officer. iXerv are fully aligned with SAP's customer-first strategy and their track record of customer success is impressive. It is my mission to enable organizations to embark on their digital transformation journey with SAP SuccessFactors' Human Experience Management software solutions," added Adam.
To learn more about iXerv's SAP SuccessFactors expertise, discuss customer references or schedule a discussion about your organization's cloud HCM plans, please contact info@ixerv.com.
About iXerv Americas
iXerv is a certified SAP partner and has received the "Recognized Expertise in SAP SuccessFactors® Employee Central and Payroll Solutions" designation for its track record of customer success in both Employee Central and Employee Central Payroll. A strong core HRIS is a critical part of every successful cloud HCM landscape and iXerv invests its focus on Employee Central. iXerv's global team of HCM experts ensure the proper implementation, integration, optimization and support of the SAP SuccessFactors suite of solutions. iXerv's own range of software solutions extend the value of SAP SuccessFactors for customers.
###
SAP, SuccessFactors and other SAP products and services mentioned herein as well as their respective logos are trademarks or registered trademarks of SAP SE (or an SAP affiliate company) in Germany and other countries. See http://www.sap.com/corporate-en/legal/copyright/index.epx for additional trademark information and notices. All other product and service names mentioned herein are the trademarks of their respective owners.
iXerv Media Contact
Diana Llamas
Marketing and Communications Manager
diana.llamas@ixerv.com