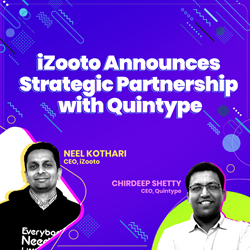 Partnership allows publishers to only create a stellar reading experience for readers but also allow them to build a better, deeper relationship with them - the one beyond eyeballs, and ads.
DELHI (PRWEB) October 27, 2020
iZooto, an owned audience marketing platform that helps Editors and Marketers engage their website audience with personalized push notifications, announced that it has entered a long term strategic partnership with Quintype, a new age digital publishing platform that helps publishers simplify content creation, distribution, audience engagement, and monetization.
Digital publishers have been massively impacted by the pandemic. Advertising, a key revenue stream for 95% of the publishers, was impacted heavily in Q2 and Q3 this year. Both products enable publishers to diversify their revenue streams and address complementary problems. Quintype, as a modern age digital publishing platform, enables publishers to not only create a great reading experience for visitors but also build reader revenue, using content paywalls. On the other hand, publishers use iZooto to improve their reader retention by sending targeted push notifications.
"At Quintype, we have been constantly looking for ways to help publishers grow audiences and monetize content better. We have been actively pursuing strategic partnerships that will benefit digital publishers. Accompanied by iZooto, the market leader in push notifications, Quintype aims to deliver an enhanced digital experience to all our clients," said Chirdeep Shetty, CEO of Quintype. iZooto now also natively integrates with Quintype - allowing editors to distribute their stories to their audience in real-time. Editors can not only create and publish their content with ease but also be the first one to break news.
Both Quintype and iZooto are used in leading newsrooms across India, Europe, and Southeast Asia. iZooto counts the likes of Times of India, IndianExpress, Network18, Tencent amongst its key customers. Quintype on the other hand powers BloombergQuint, Fortune, Vikatan Group to name a few.
"We @iZooto have known Quintype for the last 3 years and have always been impressed by their laser-focused efforts in building a world-class digital publishing platform, joining hands will further strengthen iZooto's positioning as the leading owned audience marketing platform," added Neel Kothari, CEO of iZooto.
About iZooto
iZooto is an owned audience marketing solution that leverages push notification as a channel to help publishers build, own, and engage their audience. iZooto enables publishers to take charge of their audience and reduce their dependence on Google and Facebook. Publishers engage their audience with personalized and automated notifications to build repeat traffic and earn more from their current display ads. Publishers can also push ads to their audience using notifications and generate incremental revenue.
About Quintype
Quintype is a publishing platform designed for digital media organizations. A new age digital publishing platform to assist digital media organizations in creating interactive content by way of engaging storytelling elements, analytics-driven distribution of content to increase engagements, seamless end-user experience across channels and provides tools for audience engagement and monetization.
Press contact:
For iZooto
Name: Neha Tanwer
Email: neha@datability.co
Organization: Datability Solutions
Website: https://www.izooto.com
Contact: +9185589 83431
For Quintype
Name: Vineet Panjabi
Email: vineet.panjabi@quintype.com
Organization: Quintype Technologies
Website: https://www.quintype.com