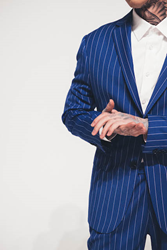 "IZOTTI is essentially a bespoke tailor on your phone. The future of menswear"
TORONTO (PRWEB) August 05, 2020
Canadian Menswear Startup IZOTTI Introduces Proprietary Algorithm for Accurate Customer Measurement via Smartphone and Webcam
IZOTTI, a startup specializing in bespoke mens suits and shirts, has recently launched its new website with a proprietary algorithm that makes the measurement process simple and accurate like never before.
IZOTTI is pleased to announce the official launch of its new and improved website with tons of exciting features. Out of all the impressive features of this website, one that stands out is its proprietary algorithm that allows customers to capture their measurements online with near perfect accuracy, using their smartphones or webcams. Founded in 2017, IZOTTI is an exclusively online menswear brand specializing in custom suites for men.
In the recent years, like most other industries, shopping online has emerged as the more preferred alternative in the fashion industry. In this changed business environment, many retailers have struggled as more and more brick and mortar stores have closed down. While purchasing clothing online, ensuring the perfect sizing has always been a concern. IZOTTI looks all set to solve this problem with its new API Integrated website. Interestingly, IZOTTI is now the only company across the global fashion space to deploy a technology for this purpose with such accuracy.
Making use of IZOTTI's integrated API, its customers can now choose a suit and customize it to ensure a perfect fit by just taking a photo on the website. The process is instantaneous and frictionless as it integrates directly into checkout. It took IZOTTI approximately eighteen months to develop the algorithm and its founder Moti Biya spent almost the entire 2019 refining it. In order to calculate measurements for suits, the algorithm utilizes landmark points, computer vision and machine learning. This cutting-edge technology essentially converts the iPhones of the customers into digital tailors.
"Typically, if you do want to get a custom tailored suit, you would have to make an appointment with a tailor and then come back for re-measurements. As more and more retailers close down their brick and mortar stores, our company is looking to the future and utilizing technology to make user experience easier by making measurements efficient and more accurate," Moti Biya said. "We have taken a measurement process that could take days or weeks down to seconds, and a sales cycle that traditionally takes months down to one week."
The improved website of the company offers several other exclusive services including style guides, weddings, and custom details. In addition to custom suites, IZOTTI also offers an exquisite collection of jackets, shirts, and ties for men.
To find out more, please visit IZOTTI
About IZOTTI: IZOTTI is a premier online retailer for menswear. IZOTTI specializes in crafting bespoke mens suits and shirts with a secondary focus on mens accessories. Based exclusively online, IZOTTI uses an integrated API to capture customer measurements directly from their smartphone or desktop camera.
Contact: Maria Fontenelle
Website: https://www.izotti.com/
Email: maria.fontenelle@izotti.com