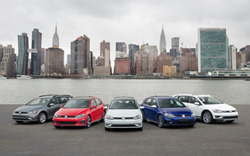 ORWIGSBURG, Pa. (PRWEB) October 25, 2018
Drivers on a budget still want to purchase a vehicle that is in great condition. To further help with finances, a fuel-efficient model with a decent fuel economy is a wise purchase so as to pay less on gas as fuel prices continue to rise. The J. Bertolet Volkswagen dealership aims to help make the search for such a vehicle an easy and stress-free experience. Their pre-owned inventory has a wide variety of fuel-efficient vehicles ranging from 2002 to 2016 models, all with an array of prices to fit any sensible budget.
The new inventory at J. Bertolet Volkswagen stocks current 2018 and 2019 Volkswagen models. Meanwhile, the pre-owned inventory of J. Bertolet Volkswagen is full of used models from several reputable car brands. For those classified as fuel-efficient, which in this case means having a minimum mpg of 30, currently available brands include Chevrolet, Mazda and Nissan models among others.
Some options for residents throughout Schuylkill County to entertain as possibilities include a 2006 Mazda3 sedan, a 2016 Nissan Rogue SUV and even a more recent 2016 Volkswagen Golf hatch. Beyond fuel efficiency, additional modifiers can help potential customers find their next purchase through searching by model year, color, engine, body style and more. Each vehicle listed in the J. Bertolet Volkswagen pre-owned inventory has a Carfax report included and available for viewing to show every model's history of ownership and service.
Schuylkill County drivers looking for an affordable and fuel-efficient model can start their search by browsing the online inventory of J. Bertolet Volkswagen. For additional information concerning any topic related to available vehicles, interested customers can reach the staff of J. Bertolet Volkswagen at the number of 570-366-0501. Additional means of communication can be found online or by visiting the dealership location. The J. Bertolet Volkswagen dealership is located at 555 Route 61 in Orwigsburg, Pennsylvania 17961.