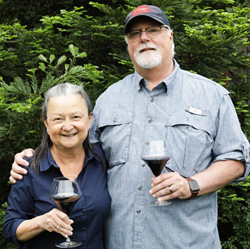 Roger Beery said, "I so appreciate the creativity we see from our virtual guests. We've been able to be a part of birthday parties with guest musicians, family reunions, client appreciation events, sales presentations to customers and more. We know it's special when the guest books another event
HEALDSBURG, Calif. (PRWEB) July 14, 2020
J. Cage Cellars of Sonoma County, CA shifted exclusively to private virtual wine tastings via Zoom during shelter-in-place. While originally seen as a temporary way to interact with customers, J. Cage will now solely focus upon expanding their private virtual wine tasting experiences, even as tasting rooms reopen. Proprietors Roger & Donna Beery have personally hosted over 300 virtual guests from their living room since they launched their private online tastings in late March.
Private virtual wine tastings have become and will continue to be an ideal vehicle for bringing friends, families and corporate teams together to share wine and a memorable experience directly with Roger and Donna. The private J. Cage Virtual Wine Tasting experience creates a fun and interactive environment, where all questions are welcome. The result is a truly personal and authentic experience.
Roger Beery said, "I so appreciate the creativity we see from our virtual guests. We've been able to be a part of birthday parties with guest musicians, family reunions, business team building, client appreciation events, sales presentations to customers and so much more. We know it's special when our guest books another tasting."
J. Cage offers 3 and 4 bottle selections of their award-winning wines that are hand-packaged and sent in advance to each tasting participant. Also included, is a personalized tasting menu with suggested charcuterie and food pairings. Since J. Cage wines are only available from the winery, the tasting is an exclusive and personal experience. Tasting fees are included in the price of the wines.
Their online tastings have been as intimate as a couple on a pandemic inspired cross-country virtual date to corporate events with as many as 40 guest screens. Each tasting is customized to the desires of the client.
One corporate virtual client just posted on Google. "The rave reviews from this team event are still coming in," and she thanked Roger and Donna for "rekindling the "spark" that our team needed to stay positive while being remote."
Corporate Virtual Wine Tasting FAQ's
"The online wine tastings have allowed us to share personal moments with our guests and club members, in a more comfortable and intimate setting. Wine and virtual meet-ups are a great pairing," said Donna Beery. "Helping to facilitate family reunions and special celebrations have been very rewarding."
J. Cage Cellars is a boutique family-run winery producing about 1500 cases annually. Founded in 2014 in Healdsburg, CA., proprietors Roger and Donna Beery, from Austin, TX, along with winemaker son, Conch Beery, daughter, Whitney Beery, focus on small-production, single vineyard Sonoma County Pinot Noirs in tandem with well-known consulting winemaker, Adam Lee.