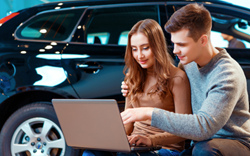 EASTON, Pa. (PRWEB) November 30, 2018
The process of buying a car can be notoriously hectic, causing endless headaches for some, and that is why J.D. Byrider offers convenient ways for customers to apply for financing on their own time.
While the traditional method of physically walking into the dealership office to begin the financial application process is still encouraged, J.D. Byrider has made it easy for prospective customers to get started on everything no matter the time of day. By visiting the J.D. Byrider website on their smartphones or via their laptop or desktop computer, people in the Lehigh Valley area looking to finance a used vehicle will find a number of convenient ways to do so.
The J.D. Byrider website is responsive, meaning it is flexible and capable of shapeshifting to match the size and functionality of the device on which it is being viewed. This means customers scrolling through the site on their phones can just as easily apply for financing as someone who is sitting at their computer desk and viewing the site on a large monitor. Visitors simply need to fill out a form with the appropriate information and the dealership will be in touch. The dealership's inventory, location, informative blog and link to its Facebook page are also included on this website.
J.D. Byrider specializes in financing pre-owned automobiles for people who have a poor credit history or no credit at all. The dealership also has an onsite service center and offers Extended Service Agreements for those who end up purchasing a vehicle there. The J.D. Byrider inventory consists of a wide variety of vehicles, including SUVs and luxury cars.
To learn more about how customers can apply for financing or anything else the dealership has to offer, interested parties may visit http://www.ridejdb.com or call 484-240-4381. J.D. Byrider is located at 2460 Freemansburg Ave. in Easton, Pa.