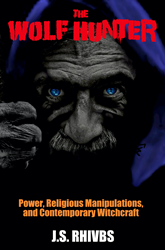 The ignorant preacher is not as dangerous as the false preacher.
FAIRFIELD, Conn. (PRWEB) October 20, 2020
At a time when it seems each week brings news of church scandals and pastors falling from grace, minister and speaker J.S. Rhivbs' new book 'The Wolf Hunter: Power, Religious Manipulations and Contemporary Witchcraft' takes aim at the proverbial wolves in sheep's clothing. The theme of the book derives from the well-known warning attributed to Jesus Christ in Matthew 7:15, "Beware of false prophets who come to you in sheep's clothing, but inwardly are ravenous wolves."
Rhivbs' slim volume offers a biblical, faithful, and passionate no-holds-barred exposé of the modern day 'wolves in sheep's clothing' inflicting harm on Christian believers. The author's main focus is not, however, the blatant and universally condemned scandals grabbing all the headlines. Rather, he reserves his righteous ire for "false preachers" who inflict a subtle form of spiritual abuse. Rhivb's defines false preachers as those who intentionally preach falsehoods for worldly gain.
"There is a difference between a preacher who is ignorant and a preacher with false intentions," says Rhivbs. "The ignorant preacher is not as dangerous as the false preacher," claims the author.
Using the Prosperity Gospel as an example, he affirms the underlying truth of it, but says the message often gets twisted and thereby loses its biblical grounding. He cites the framing of offerings and tithes as a 'quid pro quo' required for God's blessing as an example of such a distortion. "Those messages line the pockets of pastors and churches, rather than enriching the souls of believers," says Rhivbs.
With a fiery passion that matches the Old Testament prophets, Rhivbs excoriates pastors who obsess over metrics such as the size of the congregation, weekly attendance, number of locations, etc. "Sadly, some pastors are more concerned about building an empire than winning souls," says the author.
The book features illuminating scriptural quotes throughout to support the author's claims. It also shares five strategies utilized by many churches—all of which negatively affect spiritual growth.
'The Wolf Hunter' is a short read that can be easily completed in a single sitting. Alternatively, each pithy chapter may be read one at a time.
'The Wolf Hunter' will appeal to serious Reformation Christians who desire biblical truth over having their "ears tickled" (2 Timothy 4:3)—and don't mind a few feathers getting ruffled along the way. Readers looking for coddling, or feel-good spirituality, should look elsewhere.
Ultimately, 'The Wolf Hunter' offers a call to authenticity for the individual believer and church leader alike. Rhivbs incisive prose will prompt readers to seek God with purity of heart, through prayer and scripture—and to seek Him for who He is, rather than the worldly gains He can bring.
'The Wolf Hunter: Power, Religious Manipulations and Contemporary Witchcraft' by J.S. Rhivbs' is published by eBookIt.com in ebook format, and is available at all major online ebook retailers. A paperback edition is expected to follow shortly after the release of the ebook.
About J.S. Rhivbs
J.S. Rhivbs has served as a church minister / teacher and leader for over a decade. He has spoken at various conferences on Reformation topics, and successfully built more than fifteen Christian groups. He holds a master's degree in Business Administration.
About eBookIt.com
Since 2010, eBookIt.com (based in Sudbury, Massachusetts) has helped thousands of authors and publishers get their books converted to ebook format, and distributed to all the major ebook retailers, including Amazon.com, Barnesandnoble.com, Apple iBookstore, Kobo, Scribd, Ingram Digital, and Google eBookstore.