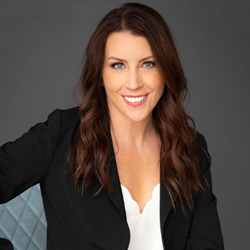 BOSTON (PRWEB) August 19, 2020
BlueConic, the world's leading pure-play customer data platform (CDP), today announced that Jacqueline Rousseau-Anderson has joined the company as Senior Vice President of Customer Success. In this role, Rousseau-Anderson will lead and strengthen a high-performing, global customer organization for BlueConic.
BlueConic's dedicated customer success managers help organizations obtain the maximum value and benefit from their CDP investment. Rousseau-Anderson will further solidify BlueConic's differentiated customer experience – one that is defined by partnership, expertise, and empathy in order to help marketers successfully navigate CDP selection, implementation, and ongoing adoption. As the voice for the customer, she will lead the global expansion of the customer success, support, and enablement organization, and serve as BlueConic's loudest customer advocate.
"We are thrilled to have Jackie on board," says Cory Munchbach, COO of BlueConic. "She is a committed champion of the customer, and an experienced, growth-minded leader who will help our customers achieve optimal results from their CDP deployments."
Rousseau-Anderson brings to BlueConic decades of experience supporting customers in their data-driven initiatives. As a partner at ScaleHouse, she created integrated sales and customer support strategies across companies of all sizes. As Chief Client Officer at Simmons Research, she designed and managed the company's successful client-first strategy. Earlier in her career, she held a variety of roles within Forrester's data business and was director of product development for J.D. Power & Associates. In every role, she prioritized the customer experience and developed strategies to support successful customer journeys. Rousseau-Anderson is a lecturer at her alma mater, Boston University, and a Board Member of Irwin Broh Research and the National Association of Women Sales Professionals.
"I'm excited to join a company that truly puts the customer first. BlueConic is a premier CDP, helping enterprises liberate their first-party data and transform their business for the future," said Rousseau-Anderson. "It will be my charge to ensure that BlueConic customers are driving outcomes and receiving a best-in-class experience at every stage of the customer lifecycle, from initial onboarding through long-term renewal."
About BlueConic
BlueConic, the world's leading customer data platform, liberates marketers' first-party data from all the disparate systems in which it exists, and makes it accessible wherever and whenever it is required from marketing. More than 300 consumer and B2B brands, including Hearst Newspapers, Moen, T-Mobile, ING, America's Test Kitchen, and Franklin Sports, leverage BlueConic to unify their first-party customer data into persistent, person-level profiles, and then activate it across their marketing ecosystem. Founded in 2010, the company is headquartered in Boston, with offices in Europe. Learn more at http://www.blueconic.com and follow us on Twitter and LinkedIn @BlueConic.