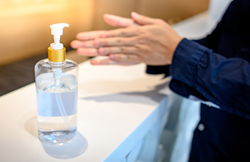 While individuals are still welcome, there are more services being offered online.
BOERNE, Texas (PRWEB) April 21, 2020
The coronavirus has quickly affected people across the country. In response to everything that has happened, Jaguar Boerne has updated its policies when having guests visit its showroom. While individuals are still welcome, there are more services being offered online. The dealership's inventory can still be found on the website. In addition, test drives can be completed at the customer's home.
Jaguar Boerne has been implementing the recommendations from the Center for Disease Control and Prevention into its showroom. It is being thoroughly cleaned daily, there are more hand sanitization stations available, the staff is being instructed on frequently washing their hands and staying home when sick and the employees are practicing social distancing.
Customers who need to have their vehicles serviced can schedule an appointment with the service department at Jaguar Boerne. There are pick-up and drop-off services available for individuals to take advantage of.
Jaguar Boerne has worked hard over the years to earn the trust and confidence of its customers. It focuses on delivering high-quality customer service to everyone that walks into the dealership's showroom and service department. In addition, the service department helps maintain Jaguar vehicles and takes care of any major repairs that a vehicle needs.
Interested parties that would like to learn more about doing a test drive at home or taking advantage of the drop-off and pick-up services being offered at Jaguar Boerne can call the dealership at 855-995-9962. Customers who would like to see the dealership's current inventory can visit the dealership's website at https://www.jaguarboerne.com/. Finally, Jaguar Boerne is conveniently located at 32120 IH 10 West in Boerne.